Volunteer Appreciation
Tuesday 11 December, 2018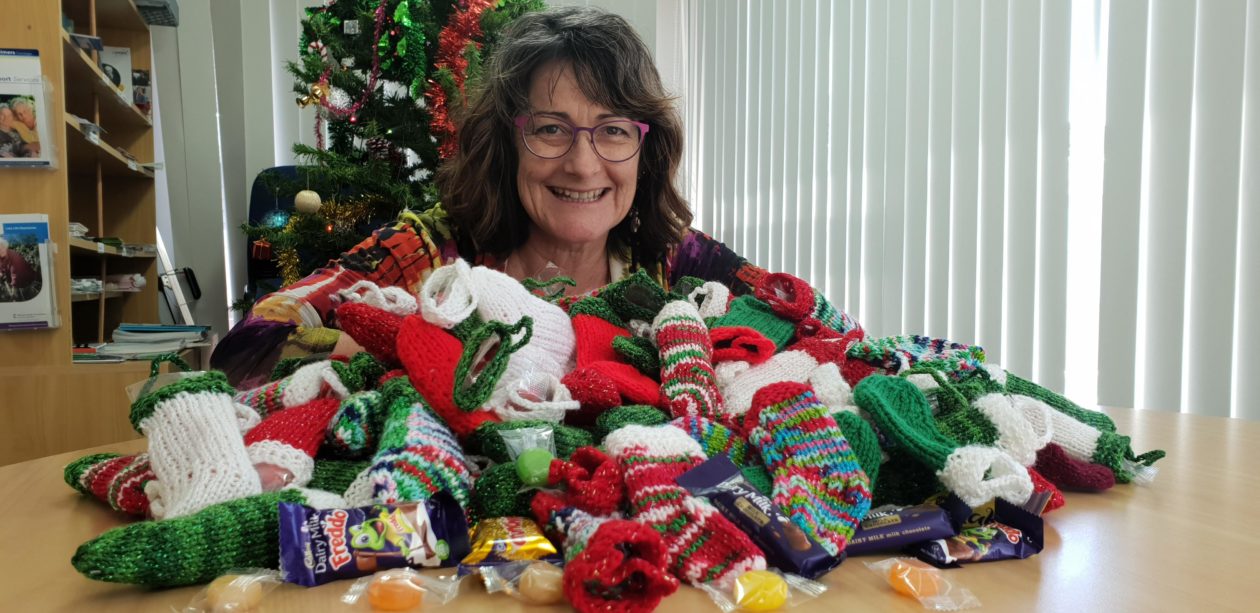 Volunteer Coordinator Faye Philp with some of the 200 Christmas Stockings she knitted for our volunteers and clients.
The theme for this year's International Volunteers' Day was 'volunteers build resilient communities' and this theme is relevant to the role Alzheimers Tauranga/WBOP's volunteers play in supporting people in our community to live well with dementia. Yesterday, the organisation's volunteers were celebrated in a special event held at Woodhill, which included entertainment from Harmony A Plenty, Barbershop Choir.
Thank you very much to Todd Gower Signature Funerals for sponsoring the event.
Volunteer Coordinator, Faye Philp, spoke about the vital role that volunteers play in our community, not just in helping those directly affected by dementia, but also in the way they help start conversations  in the broader community to help break down the stigma associated with dementia. Faye says "Alzheimers New Zealand's Dementia Friends Programme has helped our volunteers to have converations about dementia in their day to day lives, so dementia isn't a scary topic that people don't know how to talk about. Dementia Friends has become an integral part of our volunteer training programme, with all of our new volunteers now becoming Dementia Friends".
Manager Julie Sargisson says "Volunteers are the backbone of our organisation. Some of our clients recieve regular visits from volunteers. Volunteers run our activity groups and walking groups. Without them, we simply could not provide the services we do because our volunteers contribute almost as much time as our paid staff."
It is always difficult to chose people for special recognition amongst the team of amazing volunteers, but this year we gave special thanks to the following people:
Chair Award: Nicole Harvey 
Deputy Chair Award: Lee Higgins
Stand by Me Award: Murray & Meriel Hofmyr
Champion Award: Nicholas Lim
Special Treasures
Phyllis Mead
Christine Pelosi
Catherine Greig
Jennifer Sharplin
Andy Gray
Claudia Klein
Toko Kukutai
Merilyn Crean
Glenda Tucker
Laura Mattison
Debra Dorefaeff
Denis Turner