2022 Alzheimer's Disease International Conference – New horizons in dementia: Building on hope
Tuesday 23 August, 2022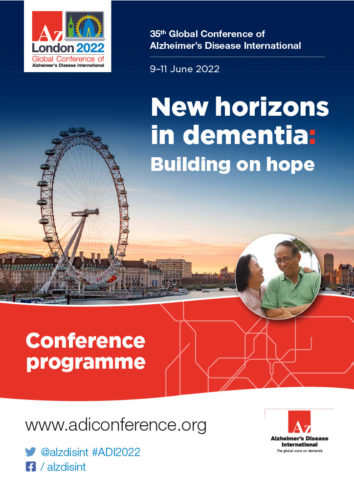 Alzheimers New Zealand recently attended an informative international conference that confirmed the need for the Dementia Mate Wareware Action plan.
The 35th Conference of Alzheimer's Disease International was held as a hybrid event (in person and online) over three full days on 9 to 11 June 2022 and attracted 1,200 participants from 120 countries (with equal numbers in person and online).
Catherine Hall (Chief Executive), Clare Hynd (Chair), Alister Robertson (Person with Dementia) (Board member), and Lyneta Russell (Principal Advisor) all attended.
"The Conference was structured around the World Health Organization's Global Action Plan on Dementia, and there was a diverse range of international keynote speakers delivering plenary sessions for each of the seven action areas of the plan," Catherine says.
The Alzheimers NZ delegation presented two papers at the Conference: Alister spoke to the development of an app to provide a digital platform to record "My Life's Journey", while Catherine highlighted the efforts towards improving dementia services in Aotearoa New Zealand.
Despite the difficulty of attending the event in a different time zone (London, UK), Catherine says the Conference offered a stronger focus on the lived experienced than previous events.
"There was a powerful message of optimism about what is possible with the right government support, and another interesting evidenced based research programme.
"It confirmed the value of the objectives and the actions in the Dementia Mate Wareware Action Plan."
One of the key Conference takeaways that stood out to Catherine was the enormous challenge dementia presents to everyone.
"Globally, there are now more people over 65 than under five and dementia, and in particular Alzheimer's disease, is rapidly overtaking other chronic diseases as the most prevalent and most feared."
Click here to read the full report, and here for the Conference's full programme.