Attitudes empower disability advocate, recently appointed as a member of NZOM
Monday 31 October, 2022
Auckland's Reverend Vicki Terrell knows the power of people's attitudes and stigma, and the importance this can have for somebody living with a disability.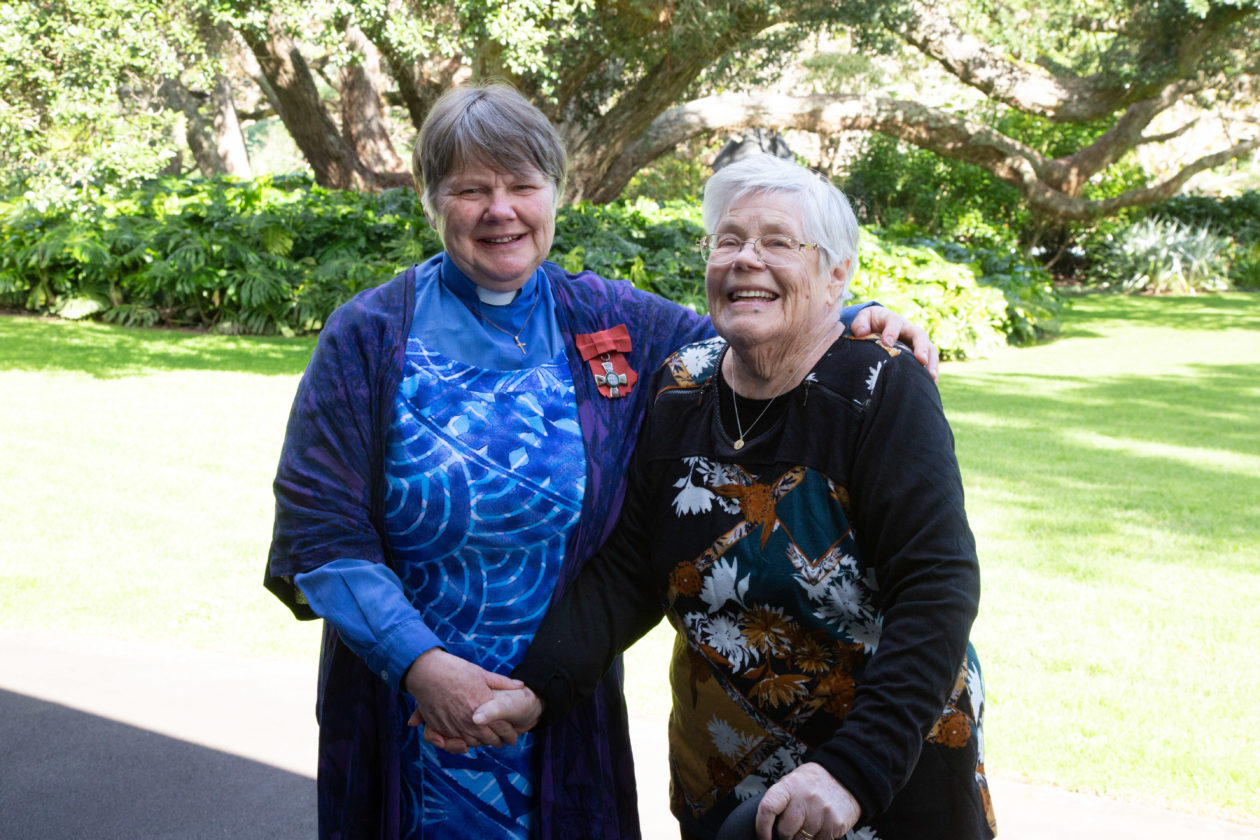 Pictured: Reverend Vicki Terrell and her mum, Reverend Jeny Terrell, at the ceremony in August
Reverend Vicki has recently become a member of the New Zealand Order of Merit (MNZM) for her service to the disability community.
She is an Anglican priest and a disabled person with a speech and fine co-ordination impairment.
Reverend Vicki's passion stemmed from her work in the disability sector, and says it's often attitudes and stigma of others that limits the potential of disabled people.
"I have been fortunate in my life to have had some people who have believed in me so I could fulfil my potential," she says.
"From personal experience I know the power of people's attitude to empower or disempower me as a disabled person."
Reverend Vicki says the NZOM ceremony in August was an amazing family occasion.
"When it was announced, it was quite overwhelming to receive many messages of support from a wide network of whānau," she says.
"I feel very humble and amazed to receive this award because many people have supported me over the years to do this work."
Reverend Vicki says she was born into disability and born into the church and these two "dance partners" have defined her life.
"I have been active in the disability spirituality field for 25 years – participating in and co-ordinating this work in Aotearoa New Zealand."
She wears many hats for organisations including the Anglican Church, CCS Disability Action, Disability, Spirituality and Faith Network and Ecumenical Disability Advocate Network of World Council of Churches.
Her experience plays a significant role in her contribution to the Alzheimers NZ Advisory Group, which is appreciated by all involved.
She's been associated with Alzheimers NZ since her mother's diagnosis in 2018, when the pair joined the biennial conference.
"I was pleasantly surprised with the strong human rights consumer focus of the conference. I got involved with the Alzheimers Advisory group as a care partner and bring a strong disability background to this work."
She would like to see the public perception of dementia change as being a disease worse than death, changing to a more realistic view with the right support many people with dementia can live good lives.
"Our society gives up on people with dementia and this makes it worse. Having a more realistic view would encourage people themselves and the medical profession to diagnose dementia earlier thus helping people to get the right support to live well," she says.
"This is a bigger issue for disability in general, that society has a stigma against disability often based on ignorance and pity."
Speaking of the award, Reverend Vicki honours her mum – who is an Anglican priest as well – who has been a staunch advocate for her and has made her the woman she is today.
"It's a privilege to be able to support her now. I tell her often that it's payback time for the years she has cared for me."
Video: Reverend Vicki Terrell and her mum, Reverend Jeny Terrell, shared their story at the Alzheimers NZ conference in 2021