Creating a Dementia Friendly NZ - An update
Tuesday 19 March, 2019
Wouldn't it be great if New Zealand was a more open, inclusive and dementia friendly society? A place where people with dementia feel valued and safe, and where they can contribute to and participate in their communities.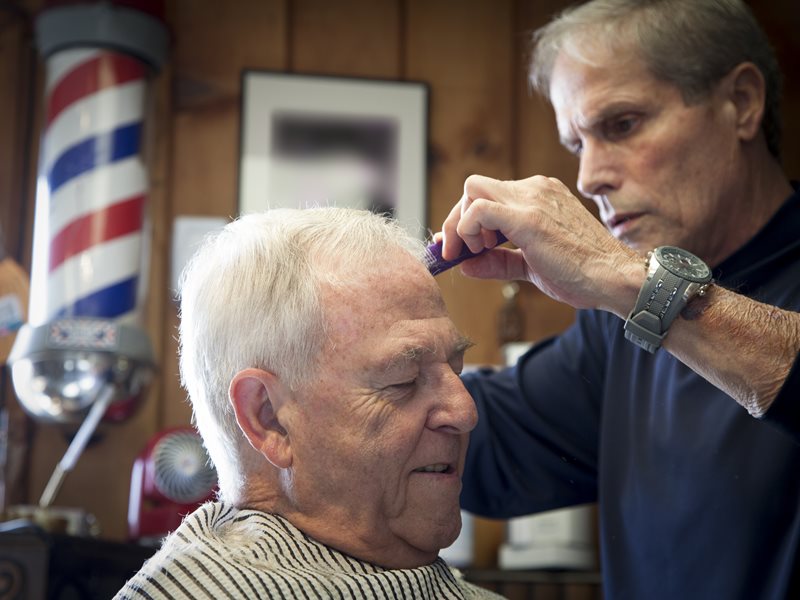 That's why Alzheimers NZ has adopted a 'Dementia Friendly NZ' as our mission. We want to make a real difference to the lives of people living with dementia, their carers, families and whānau.
So, what have we been up to?
Dementia Friendly Recognition Programme
Becoming a Dementia Friendly organisation is all about helpfulness and kindness. It's about understanding peoples' needs, educating staff and providing well-designed, supportive workplaces and environments.
Any business or organisation can enrol in our programme. A Dementia Friendly organisation is friendlier and easier to deal with for all staff and customers, something we think is good for everyone.
Enrolled businesses and organisations commit to becoming Dementia Friendly and then work to meet seven Dementia Friendly standards. These include understanding the needs of people living with dementia, as well as providing staff education and well-designed, supportive workplaces and environments. Successful organisations are then awarded Dementia Friendly Recognition by Alzheimers NZ.
Over the past 3 years, we have made 10 Dementia Friendly awards. 16 organisations are enrolled and working to become Dementia Friendly and many more are starting the journey. We would love to see other businesses and organisations inspired by their efforts and follow their example. Wouldn't it be wonderful if all NZ businesses and organisations were dementia friendly?
If you're interested, find out more about enrolling in the Dementia Friendly Recognition Programme here.
Dementia Friendly Communities
Through our Dementia Friendly Communities collaborations, we aim to inform and support communities to create safe, supportive and understanding environments.
A Dementia Friendly Community is one where people living with dementia are supported to be engaged in community life, activities and events, just like the rest of us. Most of us want to stay in our own homes and communities as we age, and this is no different for people with dementia.
Rotorua has led the way for Dementia Friendly Communities in New Zealand, establishing a Steering Group with representatives from Rotorua Lakes Council, Dementia Lakes, local providers and Alzheimers NZ. The group drives an annual programme of dementia friendly actions and activities that continue to inform and grow the dementia friendliness of the Rotorua community.
We are also excited to be working with Office for Seniors on their soon to be launched online toolkit for Age and Dementia Friendly Communities. This will provide communities and councils with all the information they need to take practical steps to increase their age and dementia friendliness.
Dementia Friends
Since we launched our Dementia Friends programme in April 2018, around 3,000 New Zealanders have joined us, either by doing our short online programme (it takes about 20 minutes) or attending a face to face session.
A Dementia Friend is someone who starts learning about dementia and how they can help. A Dementia Friend then takes action to help people living with dementia. No action is too small, and of course, no action is too big. Even the smallest actions can make a huge difference for someone living with dementia – things like being patient, listening more, offering to help, keeping in touch with a neighbour or friend living with dementia or wearing the Dementia Friends badge or wristband. Dementia Friends choose the action that is right for them.
As one Dementia Friend told us, "I believe in kindness and I think kindness is a language that everyone speaks, whether they have dementia or not."
If you are already one of NZ's Dementia Friends, another way you can really help is by spreading the word and encouraging your friends, family and whānau to join too. If each Dementia Friend managed to get five other people to take part, just think how quickly the community would grow!
Where next?
Building a Dementia Friendly Aotearoa New Zealand will take all of us. We are encouraged by the progress we have made and there is much more work to be done in this area. There are around 70,000 Kiwis living with dementia in New Zealand today, so it is vital our communities are inclusive and kind, and that they support people with dementia to live well.
Kate MacIntyre
Dementia Friendly Coordinator, Alzheimers NZ
Click here to find out more