Drawing brings a new quality of life
Thursday 17 October, 2019
Shirley Chaney describes life as a spouse of someone living with dementia, as "grieving a little bit every day for what he used to be". Her way of coping is through drawing. "Drawing takes my anger/sadness/hopeless feelings away and gives me a sense of purpose" she says.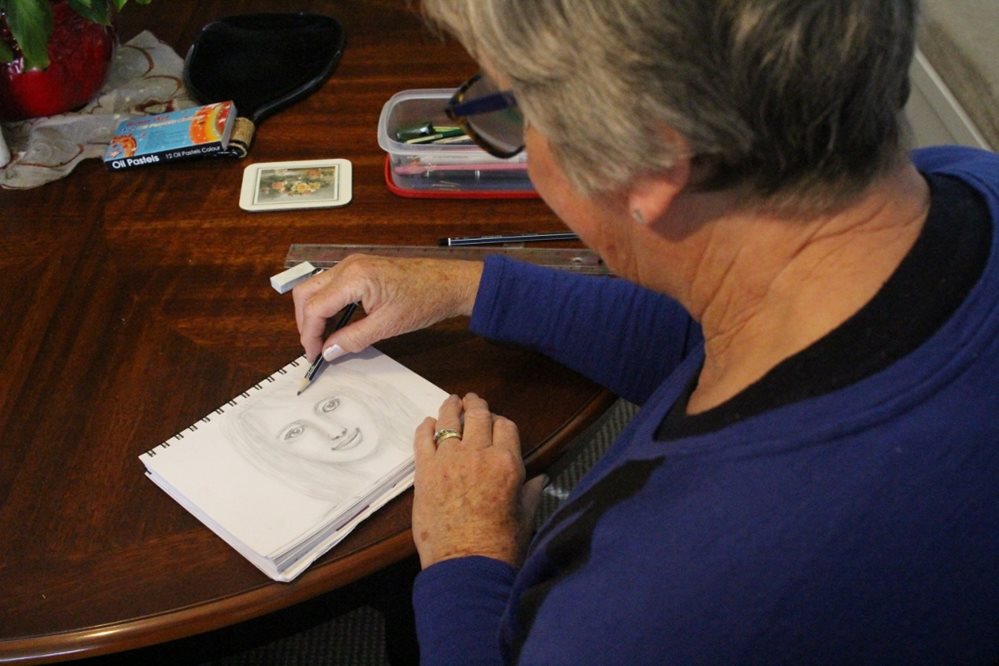 Shirley joined my drawing classes shortly after her husband of 53 years was diagnosed with vascular dementia. Reeling from the shock of living with a man whose behaviour was considerably different from what it used to be, she decided she needed to do something for herself.
She'd always been very sporty, but had never drawn before and frankly "never thought she was capable of it". But when she saw my philosophy that 'anyone can learn to draw', she decided to give it a go. Within a few months, Shirley was drawing confidently and best of all she was enjoying it. It was giving her much needed timeout from the ongoing challenges of her life.
"I spend a lot of life sitting around monitoring and being there, now I can take out my pad and draw. It's given me another focus and I am surprised how much better I feel after doing it." she says.
It's not surprising that Shirley feels better after drawing, as art activities are known to enhance mental wellbeing and have been shown to improve resilience in older adults. And drawing is an activity that falls into three of the five ways to wellbeing advice from the Mental Health Foundation of NZ.

Take notice – Unlike many other hobbies, realistic drawing requires the skill of taking close notice – of seeing something actually as it is, in that present moment. This teaches present moment awareness and gives mental space from life's challenges. When questioned about other hobbies, Shirley says she knits but that knitting is different. "Knitting, I do for others, but drawing I do for myself because it brings me peace. It's the awareness that comes with drawing that helps – it started with an awareness of people and objects and now includes an awareness of myself."
Keep learning – Drawing is a hobby with endless subjects and it is a skill that can be continually improved and built on. It also requires very little equipment that is inexpensive and portable. This means it can be done practically anywhere.
Connect – Drawings can be created of the same object or topic and then shared within groups. Online groups can be used and are especially practical for those with limited ability or time to reach physical groups. Sharing can also be intergenerational, for example with grandparents and grandchildren.
Shirley says: "I have been given a quality of life that I didn't know existed. I have a totally different focus on life, a new perspective on how I see things. It was like I had shutters on and was going through life with my eyes closed. I really do believe that there are an awful lot of people who would really benefit from learning to draw, like I have."
Joanne Deaker
About the author: I am a professional artist of almost twenty years. When my father developed vascular dementia, my mother did not cope well. Both have recently passed away. Creating artwork continues to help me both personally and professionally, it is a form of meditation that brings me joy. It was the realization of its benefits that led me to teach drawing and cases like Shirley's, that keep me doing it! I currently offer a fun, project-based online course that is designed so adults of all ages, learning speeds and locations have the opportunity to benefit from learning to draw. Click here to find out more.