Keepers of History: New Zealand centenarians tell their stories
Monday 25 February, 2019
In 2017 I interviewed 120 people over the age of 100, living in every region of New Zealand.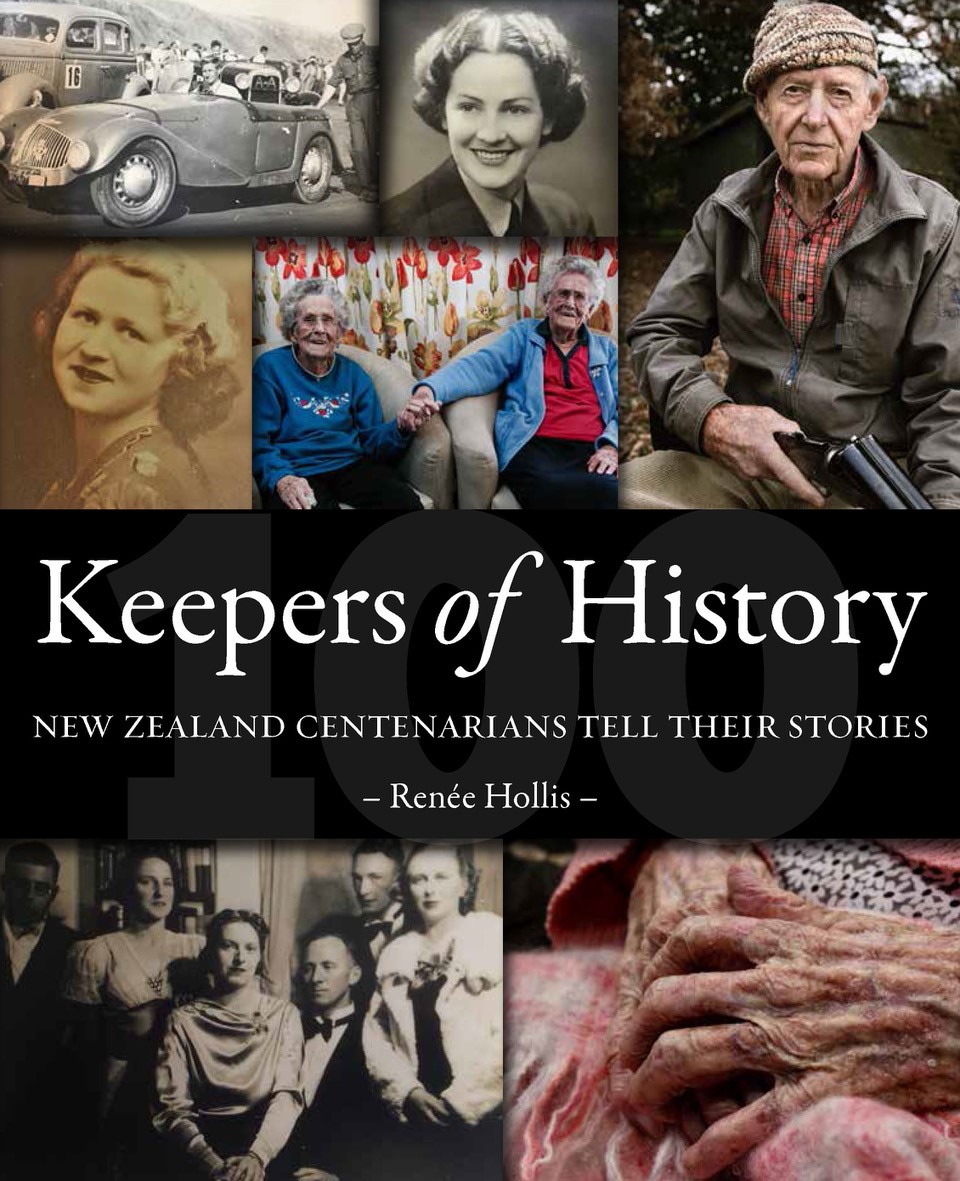 The period that these centenarians have lived through is remarkable. They can remember the end of World War I, the Great Depression, World War II, right up to the introduction of power and phone lines, television and computers, and more recently, the internet. They have gone from horse and cart to skyping their grandchildren.
My goal is to preserve our New Zealand history through sharing stories and memories of our centenarians. I want all New Zealanders to value the elderly and to read their stories, appreciating their contribution to our New Zealand society; but most importantly, not letting them be forgotten or invisible in our communities but instead, honoured and celebrated.
I do hope that this book inspires and encourages people of all ages to be inquisitive and to ask questions – you may just learn something or appreciate the person you are talking to even more. I feel very inspired by the centenarians I have met. I also feel honoured to have spent so much time with these special souls, listening and taking photographs. They have all been so open and honest in telling me their stories.
Renée Hollis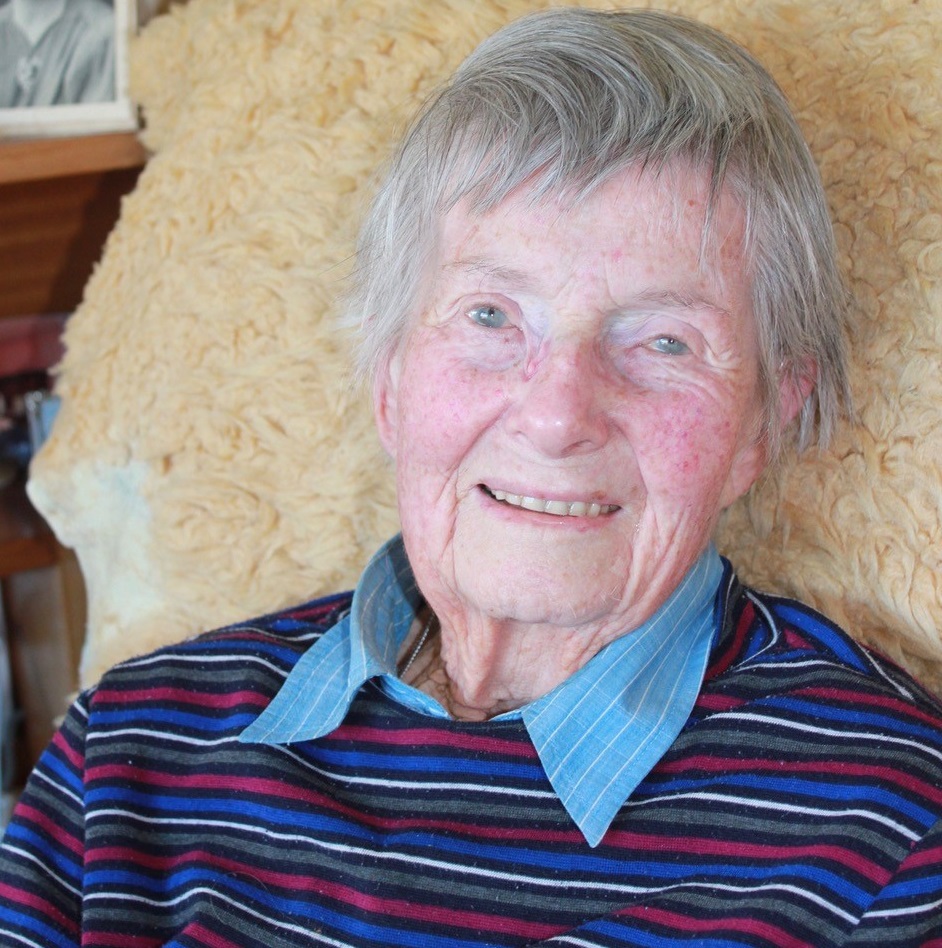 Jessie's story
Jessie Olson Allnutt (née McLean) was born in Waimate on 24 March 1916.
Very early on in my travels around New Zealand interviewing centenarians, I went on a big South Island road trip. The first person on my list was Jessie in Waimate.
She was the first person I had interviewed that was living in their own home. Jessie was full of life and loved to chew the fat. She was a hard case and made me laugh with her stories and expressions.
Jessie re-enacted riding her horse Tui and then later showed me her paintings hanging on the lounge walls and photographs of family.
Jessie will turn 103 years old on the 24th March.
I was brought into the world by New Zealand's first registered female doctor, Dr Margaret Cruickshank, when World War I was still raging. I was born on my father's farm in Glenavy, just up the road from Waimate.
Jack McLean Olson was from Waikari in North Canterbury and he built the home. My father was a carpenter, really. But he was also very successful — a darned good farmer. He drew a section in Waikakahi; it was a ballot drawn out of a hat, you know.
He came down and had a look at it and almost went back on the train to Waikari again. It looked very bleak. Of course, there was nothing on it. He had a brother with a team of horses, so my father and his brother came down. They built a shack for the horses and, on the side of that, made a couple of bunk rooms to sleep in. He would have been in his late thirties by the time he came down to this part of the country. A lot of the people that drew farms were mature and they had to be.
It was 4500 acres (1821 hectares). It was a decent-sized farm and that's where I was born. It was mainly the sheep line; we didn't like cattle much. We only kept a few cattle for milking, for our milk, cream and butter. It was sheep country in general. We also went in for grain, barley, oats and wheat. We had to grow oats for the horses. In those days we didn't have tractors; it was before the days of mechanisation.
My mother, Margaret 'Mag', was born in Glenavy. Her parents ran the general store there. It was great growing up on the farm, I loved it. I didn't have a lot of time for the kitchen. I liked being outside with the horses and the stock. That was when I was in my glory, with a mob of sheep and a couple of dogs.
I did a lot of walking and then I had a hack to ride, which covered the ground quickly. Tui was my hack; my dad bought her for me. If you look after them, they will look after you. She was my best friend. Although sometimes I got off before I decided to! I would ride around the paddocks and check on the stock and that the windmills were always working. Those small things are very important on a farm.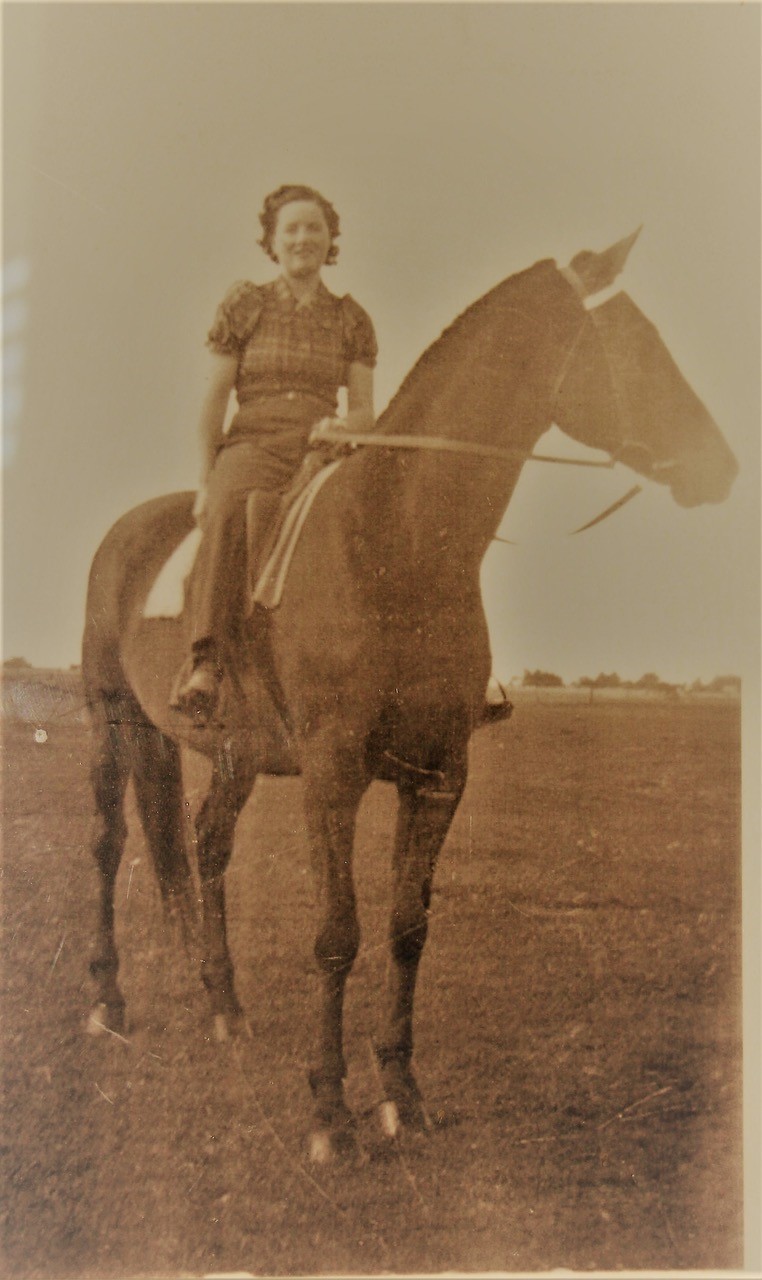 Unfortunately my older sister, Margaret Christiana, had a rheumatic heart and she would go a long time before being OK. She spent a lot of time in bed with this blessed heart. Margaret didn't live a long life but it wasn't her heart that took her, it was cancer. We wondered if all that inactivity could have been the beginning, starting the cancer off. She died when she was 49. It was too young.
My older brother, John Dallas, didn't like horses and horses didn't agree with him. When he cleaned the horses down, the dust that would come off the horses would get down his squizzle and he'd sneeze and sneeze. Horses didn't suit him. But when we got a tractor he was all right. We did have a tractor early on in the piece because of that.
Dallas was ten years older than me and didn't stay on the farm. He married a city girl and she didn't want to live in the country, so that was the end of that. Dad and I were good mates. I used to go up in the shed and help mend chaff bags — that was a wet-day job. We used to sit and yarn to each other. Oh, Dad and I were good mates. I think I got on better with my dad than my brother did.
I did a lot of the mustering stuff with my hack during the shearing season. I loved it. I also made scones and brought them down to the lads, so I was sort of a man and a girl. I worked hard, but I loved it. We got a radio early on in the piece and would listen to it after work. In my way of thinking, it was a very good life.
During the winter we just carried on, we didn't get much snow. If we did, it was all melted by lunchtime.
We used to feed the sheep. It was a crucial time for lambing ewes, to give them a bit of extra feed. Dad used to make sacking feeders and tack them onto the fence. We used to put oats, wheat and chaff in them once a day or so. We would take them out on a drove, with the horse, and sprinkle them along the fence. We looked after our stock. No stock were ever hungry or thirsty on our property. I know a lot of people didn't feed their stock so well, but we did. This was your living. If you lost a ewe and a few lambs, that was a lot of money down the drain.
I went to Glenavy School; there was only the one there. When I was older I would climb on the slow train from Glenavy to Studholme. Then you got off the train at Studholme and waited for the Waimate Buster to come along and take you to Waimate. Then you walked from the station to the secondary school. We would start heading back on the train at 4.15 p.m. and would often not get home until after 7 p.m. I would get home, have my dinner and sometimes do my homework. You were buggered by the weekend, absolutely shot!
When I was fifteen I got a pretty bad dose of the flu and my mother said, 'That's enough, you're leaving school!' And that was that. After that, I just worked around home. But I wouldn't have missed those couple of years at High School for quids. I learned a lot in that time.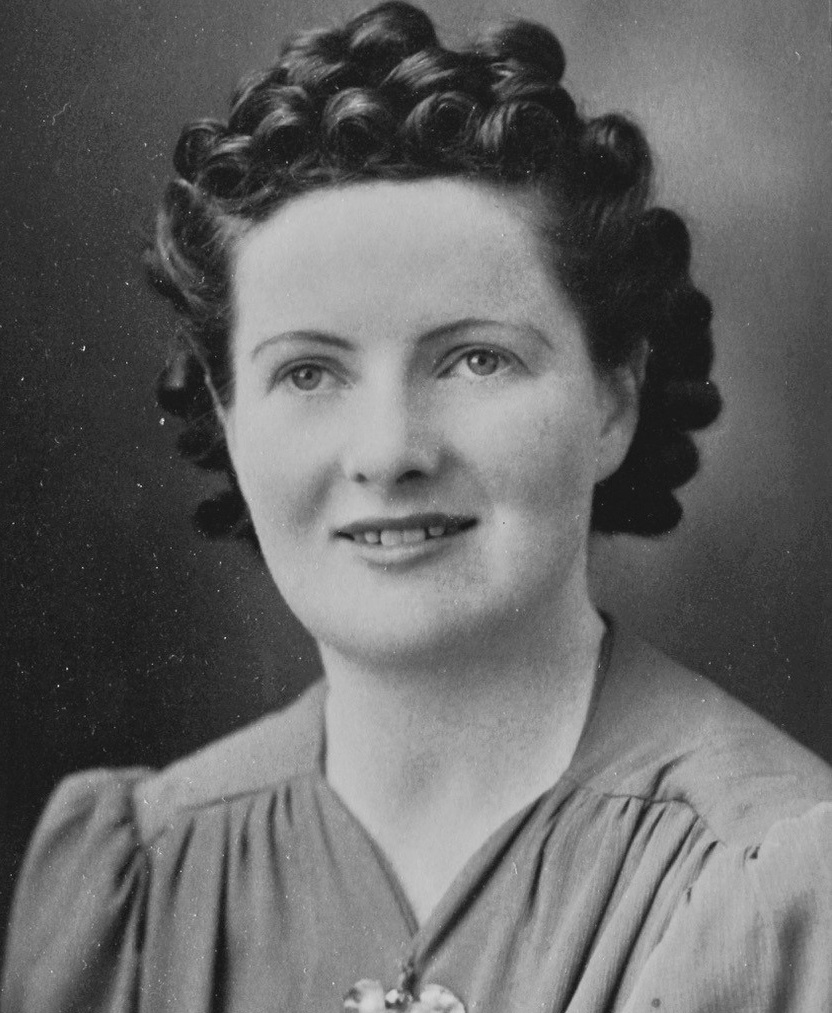 Later, someone took a fancy to me. I think someone told him I was a pretty handy character and could do anything. I actually met Tom at Mount Cook. My cousin and Tom were going to Mount Cook for a holiday and I was asked if I wanted to go, and went with a friend.
They had dances there and we went on some long walks too. I enjoyed it very much, but I haven't been back since. Tom was a farmer, a different farm completely, it was more intensive farming. Tom and my dad got on fine.
I married Tom Allnutt on 18 April 1945, at St Paul's in Oamaru. I chose that day because it was the same date that my parents got married. We had the wedding breakfast at the Star and Garter tearooms. The tearooms are still there and I would love to go back to it one day. I am just looking for a chance to get to Oamaru and go to the Star and Garter once more.
After we got married I moved to the Allnutt family farm at Morven. Tom didn't have to go to war because he owned the farm and so continued farming. I worked hard during World War II. I took over the shepherd duties on the family farm and looked after a few hundred lambs and ewes. It was pretty hard in those days. Everything was rationed. I was working on my father's farm at that stage. We had to have our coupon book wherever we went. There were petrol restrictions of 3 gallons (11 litres) of petrol needed to keep the family car going for six weeks, although those with smaller cars received even less.
We raised three sons — Graham, Phillip and Winston. Tom's dad was rather keen on Winston Churchill, so we chose that name. It was a good name but we lost him; he developed cancer. He was a darling, a lovely boy.
Graham lives in Wellington and Phillip lives in Australia. They are too far away. After 27 years at Morven we moved into Waimate in 1972. Tom died in 1974 after only living in this house for a year. He didn't get to enjoy his retirement; it was a real shame.
We had not travelled when we were married so, when Tom died, I explored Canada, the United Kingdom, the Netherlands, France and Belgium on my own. I have had a few other offers for marriage, but they were 'takers' and I didn't want that. You have to be a bit careful.
Now I spend my time just living. If the weather is nice I can go out on a scooter. I like to read the local paper and know what's going on. I get Meals on Wheels during the week; it's a nice way of cooking. I used to make my own meals, but someone put a spoke in that. I have just about retired from the garden, but I do help out at St Augustine's in Waimate as much as I can.
I have had an active life, trying my hand at tennis, lawn bowls, Scottish country dancing and badminton. I played senior badminton until I was 90. I only gave it up because of declining eyesight.
I'm getting older, but I don't notice it much. Well, I do sometimes, if my leg hurts or something else hurts.
I think good food, hard work and a good sense of humour are some of my keys to success. A bit of good luck and 'stickability' doesn't hurt either.
I have some advice for young people. It would be: stick to the rules, use a bit of common sense and don't do anything silly. 'Keep calm and carry on' — I think that's a good one.
Jessie Olson Allnutt
Keepers of History will be released in March and can be pre-ordered now. The first 100 New Zealand orders will be personally signed by author.
Click here to order from the book from Exisle Publishing