Living with change - Ted's poem
Friday 15 March, 2019
Kia ora tātou te whānau whānui. We all know of the saying 'without rhyme nor reason' – this certainly does not apply to my dedication poem which is full of rhyme and reason for writing it. I'm happy that I'm able to share my journey of discovery and living with change with you for World Poetry Day (21st March).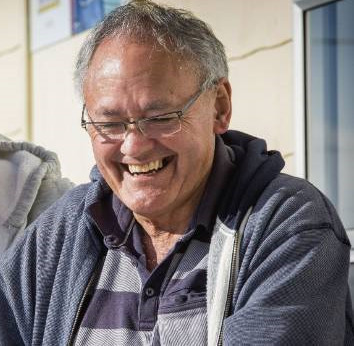 Living with Change
My name is Ted Normanton, Gisborne born and bred.
I settled in Taranaki, a fellow teacher I wed.
Family life was challenging but we comfortably got by;
Raising three of four children made the time fly.
With family support, we were set up well enough,
That was long before the going got tough.
With a teaching background, I was sound of mind.
I was very much the athletic kind.
Though years on, my life has changed quite suddenly,
Onset of dementia, it is now thought to be.
Soon related symptoms started to show.
Periods of high and periods of low.
My sense of humour seemed not at its best
To this my family would attest.
Out of character behaviour took family by surprise,
I was soon succumbing to straight-out lies.
When my tolerance levels were down,
I sported more than just a frown.
I could hardly let anyone near,
I surely didn't bring any cheer.
My lack of judgement, at times was tested.
"What were you thinking?", my wife contested.
I was getting increasingly agro.
My family worried that I might blow.
Then one day things came to a head
And I broke down, the tears I shed.
I eventually unwound
As my whānau rallied round.
We all know about 'not thinking twice'.
It was urgent to seek expert advice.
How critical this was for me,
My doctor quickly made me see.
Referring me to a specialist,
My wife accompanied me there.
I was anxious to find out where it would go from here.
Talking through my problem, this was to be the cue
For the rigorous testing I would be put through.
Diagnosed with dementia, I was in denial –
But there it was now on my medical file.
A geneticist also I had to see,
Bearing resemblance to my family tree.
Her findings were all good,
So we did know where we stood.
A neuro-surgeon I had to see,
And this advice he gave to me:
"Hope for the best, plan for the worst".
I'll put my money on the first.
I took this in a positive way,
Not knowing where my future lay.
How has my condition impacted on me?
There are times when I feel all at sea.
I am experiencing something new.
Lack of motivation I rue.
Having played a lot of sport,
Mental battles I have fought.
My energy levels don't feel the same.
But dementia can't take all the blame.
I am growing older every year
And so my parts have started to wear.
Being told I could drive no more
Nearly sent me to the floor.
Some independence was taken away,
But I supposed I would manage okay.
Concentration lapses and judgement impaired,
A show of road-rage was even feared.
This spelt an end to something dear,
Something I found hard to bear.
I couldn't drive my moko around,
With no license I was bound.
So travelling by bus it has to be,
Thankful my Gold Care gets me on free.
Early on, what caused a fuss,
Was sometimes boarding the wrong bus.
It became no longer a mission
When the drivers found out about my condition.
What happened too, got me in a stew –
Parcels I'd leave behind on the seat.
Getting them back was somewhat a feat.
To further frustrate my position,
I faced another imposed condition.
No child-minding alone seemed the last straw.
What other setback could there be in store?
Well to disadvantage me once more,
Was the closing of the classroom door.
I would miss all the smiles and laughter,
And ponder the so-called hereafter.
The satisfaction teaching brought,
But alas it was cut short.
I couldn't keep getting myself in a knot,
I had to accept what was my lot.
With patient handling I can persevere,
But have I what it takes to face my worst fear?
Complete loss of memory would do my head in.
…Pun not intended but you can still grin.
With my frontal lobe dysfunction,
I have poor impulse control.
Not thinking of the consequences
Sometimes takes its toll.
Inappropriate remarks I am heard to say.
My filter isn't working, so I'm having a bad day.
I've always been a social beast,
But this side has all but ceased.
I'll opt out with some lame excuse,
Some would see it being obtuse.
In noisy situations I find it hard to cope
But I don't want to slip further down that slope.
I remember the catchy popular song:
"Que sera sera, whatever will be, will be".
For me tautoko,
Support is the key.
What gets drawn to my attention
Is sometimes a lack of comprehension.
Decision-making is one more chore.
Before you know it I'm out the door.
I mostly get my messages across,
When confusion sets in, I feel at a loss.
The thread of a conversation I can't always follow,
But writing words down keeps a constant flow.
Multi-tasking, I could once do.
By the look on some faces, you think it's untrue.
What I can do gives me pleasure,
As I can finish at my own leisure.
Now this has been made easier for me,
We employ a cleaner fortnightly.
I do enjoy outings, there's the scenery change.
But if there's no connections, things can appear strange.
I love musical theatre; it gives me a lift.
Thanks to performers for sharing their gift.
A highlight for me was the Elvis museum,
A striking display – it's a New Zealand gem.
A pastime in which I did engage,
Was performing on the stage.
Acting roles have been a blast.
But this may be a thing of the past.
Memorising lines will be the test,
I don't think I could give it my best.
So it's probably fair to say,
This passion has been taken away.
Having mood swings,
Uncertainty they bring.
So being out with my moko is restricted,
But at least I stay connected.
A big house and section got too much for me.
So a sale and new purchase it urgently had to be.
This was more than a change of location,
Other factors figured in the equation.
Knowing it was better to act soon than late,
Given the uncertainty regarding my state.
Moving to a retirement village proved the best thing to do,
And having good company, my confidence grew.
Something I do feel good about,
Is still being chief cook, without a doubt.
Because my wife stays late at school,
I fix dinner as a rule.
What could be considered a household crime,
Is my using the stove at another time.
I've left on hot elements in the past.
This lesson I had to learn fast.
I'm not one to wallow in self-pity.
I'll contribute where I can, though it may be bitty.
The New Plymouth club is a God-send for me,
There's that strong sense of belonging,
A homely place to be.
I help with some activities, mainly word game ones,
With quizzes, jokes and riddles, I get in on the fun.
The team is so wonderful, it's kaupapa goes far.
The friendly atmosphere built around aroha.
I feel privileged to be up here, to be in your company.
I will leave with more assurance, and more informed I'll be.
Now a member on the Taranaki Board,
Time for this I can afford.
Kia kaha, tu tika, stay strong, stand tall.
Aroha and āwhina shared by us all.
Oh! And let me not forget –
Gosh, I can't even remember yet….
by Ted Normanton
Click here for more information about Alzheimers Taranaki