Memory triggers now virtually a reality in Taranaki
Wednesday 5 October, 2022
People living with dementia in Taranaki are using virtual reality (VR) to help them reminisce and improve their balance and language skills.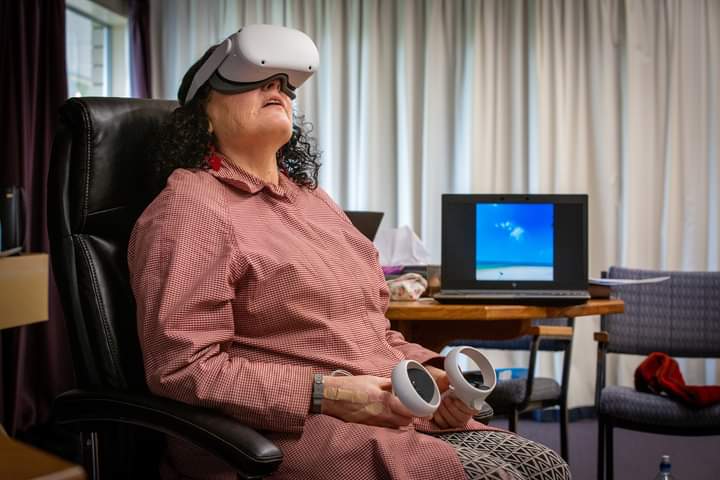 This is part of a VR project by Alzheimers Taranaki funded by the Ministry of Business, Innovation and Employment's Curious Minds programme.
They've teamed up with Staples VR, Dr Linda Jones and economic development agency Venture Taranaki to help bring this project to life.
While it's still in early stages, manager Helen Frank is excited to see where the technology could lead.
The idea was sparked following research in 2021 by the University of Valencia, Spain, around safely using VR for people with dementia.
"It was really interesting and exciting stuff," says Helen.
"This led us to think about if VR could be used safely for dementia and how would it work?"
So far, the VR experiences have been full immersive in environments like a desert island or underwater as the relaxation helps people reminisce.
Now, the VR headsets have simple games and quizzes on them which people can play.
Helen says the VR has helped people improve their language and balance skills, and it's another social activity as people nearby can see the 'reality' on an iPad and help the user.
People who want to use the technology are carefully screened to make sure they're not being put at risk.
"It's a really great way to do stuff together," she says.
Students from New Plymouth Boys High School are also getting involved and have been tasked with writing a how-to guide for the VR technology, which is still in development.
The VR headsets are now in regular use in New Plymouth (with a headset on the way to Hawera) – with some great feedback from the users so far.
"A lot of them haven't had the opportunity to use the technology before, so it's really neat to see them when they've got it on. They really enjoy it, and it really helps them," says Helen.
"We're not quite sure where this will lead in terms of application, but the possibilities are out there."
Alzheimers Taranaki is continuing to develop the technology and hopes to share it wider when it's ready.
For more information contact Alzheimers Taranaki manager Helen Frank on
manager.taranaki@alzheimers.org.nz.