Support for whānau with young onset dementia mate wareware a lifesaver for carers
Wednesday 31 May, 2023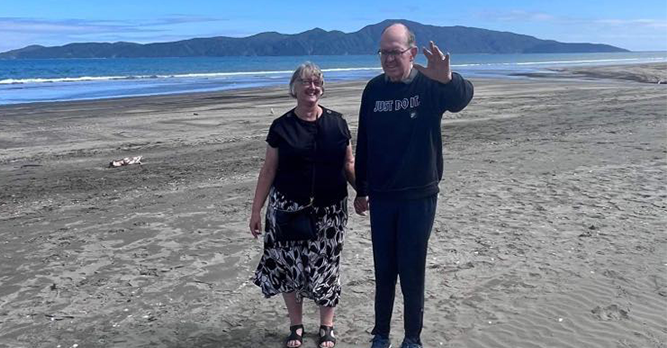 Jennifer Watson (pictured) says a new online support group for carers of people with young onset dementia mate wareware – the only national service of this kind available in Aotearoa New Zealand – has been a lifesaver.
Jennifer's husband, Paul Watson (pictured), has been living with frontotemporal dementia mate wareware for about three years and has recently been moved to full-time care.
With limited support options tailored specifically for young onset dementia mate wareware, the whānau was referred to the Younger Onset Dementia Aotearoa
Trust (YODAT).
The Young Onset Whānau Support Group now includes about 30 people nationally and meets online each month, after YODAT saw a gap in support. The group was started in May 2022.
Young onset dementia is a term for all types of dementia mate wareware with symptoms that begin before a person is 65 years old.  It is believed to affect about 3500 people in Aotearoa New Zealand at any given time – latest data shows seven percent of New Zealanders with a diagnosis of dementia mate wareware are under the age of 65.
Jennifer says the group has been a vital support for her and others in a similar position the past year.
"It's a really lonely journey as you're not prepared for something like this to happen. It's connected me with people who are going through the same thing as me. Being part of the caregivers' support group is invaluable for the connections you can make so that you're not feeling so alone.
"Most of us are all still working when the young onset dementia mate wareware journey begins – my husband left work, and then it got to the stage where I had to start working from home, then drop to part time and eventually leave my employment.
"It's really good to connect with people who really, truly understand what you're going through. It's just such a difficult journey."
Another challenge the whānau is facing is aged residential care facilities are generally set up for older people.
"The support and advice has enabled me to become a strong advocate for my husband. There's quite a few times where I've had to strongly advocate for him."
Jennifer credits much of the group's success to the online facilitator Emma Fromings.
"She been an amazing support as well. She is a really good listener, and has really sound advice," she says.
Chair of YODAT Dr Brigid Ryan says there are many great organisations already offering services for people and whānau living with dementia mate wareware, but the support isn't always specifically for people with young onset dementia mate wareware.
"It's important because the needs of people in that younger age group are really different – until recently, I don't think that's been appreciated," she says.
"We often associate dementia mate wareware with ageing, and that makes sense because there is an increased risk of developing dementia as you age. What I don't think is appreciated is that a reasonably large number of people with dementia are in that younger age group."
A specific example of how the condition can differ is the average time taken to get a diagnosis. For people over 65 it  is 2.5 years, while for those under 65 it can be up to 4.5 years.
"We all strongly believe it's a different experience for people when they're in that younger age group, and we think people who are going through this experience aren't being adequately supported," says Dr Ryan.
"YODAT gives a voice to these people and really, we're trying do all that we can to convince everybody that there are different needs. The services that are currently provided for dementia are often for an older age group, and it's really important to make sure that we're meeting the needs of the younger group as well."
Alzheimers NZ chief executive Catherine Hall is delighted extra support is now available for carers and whānau who are supporting somebody with a diagnosis of Young Onset Dementia.
"Organisations like YODAT provide essential services and are a much-needed source of support for some of our most vulnerable whānau," she says.
"We're proud to be supporting such a valued service for carers, who are often undervalued and under supported both emotionally and financially."
People who would like to join the group can email yodatonlinegroups@gmail.com or visit the Younger Onset Dementia Aotearoa Trust (YODAT) for more information.
About YODAT
YODAT is a small volunteer organisation with 10 Board Members and other team members, including clinicians, researchers and people living with dementia mate wareware.
YODAT offers services (including a twice weekly day programme in Wellington and online support groups), works closely with other organisations, advocates for people living with young onset dementia mate wareware and supports research.
It was founded in 2015 by people interested in improving the lives of people living with young onset dementia mate wareware – specific to those who develop symptoms before the age of 65.