Wither Road Club
Alzheimers Marlborough runs Wither Road Club (day respite) five days a week for people with Dementia. Entertainment is provided by visiting groups, and members take part in exercise and craft activities all specially tailored to their abilities.
Eligibility
To be eligible for Wither Road Club, the person with dementia will have been referred by a member of the medical profession after a diagnosis of dementia is made.
If the person with dementia is not eligible for this subsidy, private members fees will be discussed before starting at the Club. WINZ disability allowance may be available.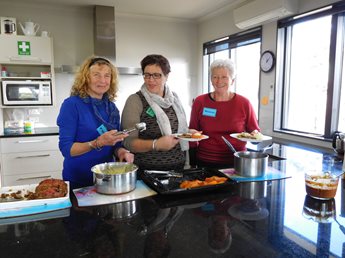 This club is held Monday, Tuesday, Wednesday, Thursday and Friday 9.30 am – 3.30 pm, and offers a program of stimulation, challenge and fun for people with dementia and a respite break for their carers.
On a nice day club members are taken on outings in our van for picnics and to visit  places of interest. Members also benefit from walks around the neighbourhood  always accompanied by staff or volunteers. An important part of the day is centred  around reminiscing.
Forget-Me-Not Club members have a hot mid-day meal, morning and afternoon tea  all cooked fresh on the premises.
We like to have a history of the person with dementia including past interests, family etc. This helps staff at Alzheimers Marlborough get to know the club member and to provide triggers for conversation at the club.
Transport
The Wither Road Club has a van for picking up club members. This van is also used for outings and day trips. The van driver leaves the club about 9am so the club member may be picked up any time between 9 and 10am, depending on the route. The van leaves the club at 3.30pm so the club member will be dropped off sometime after this time. Families can arrange their own transport if preferred.
Venue
The club is situated at The Alzheimers Centre, 8 Wither Road, Witherlea, Blenheim. The facility has been built to meet the needs of club members, providing a homely welcoming environment. The gardens, some raised to enable all members to potter, are enjoyed by club members.
Charges
Most people who come to the Wither Road Club receive a subsidy from NMDHB Support Works, which is paid directly to Alzheimers Marlborough. Our community support workers can help carers with applications for this funding.