Lived experience report and Declaration launched
Friday 10 May, 2019
This is our story: A qualitative research report on living with dementia is a brand-new, landmark report which tells the story of the diverse lives and experiences of New Zealanders living with dementia, and explores what it means to them to live well.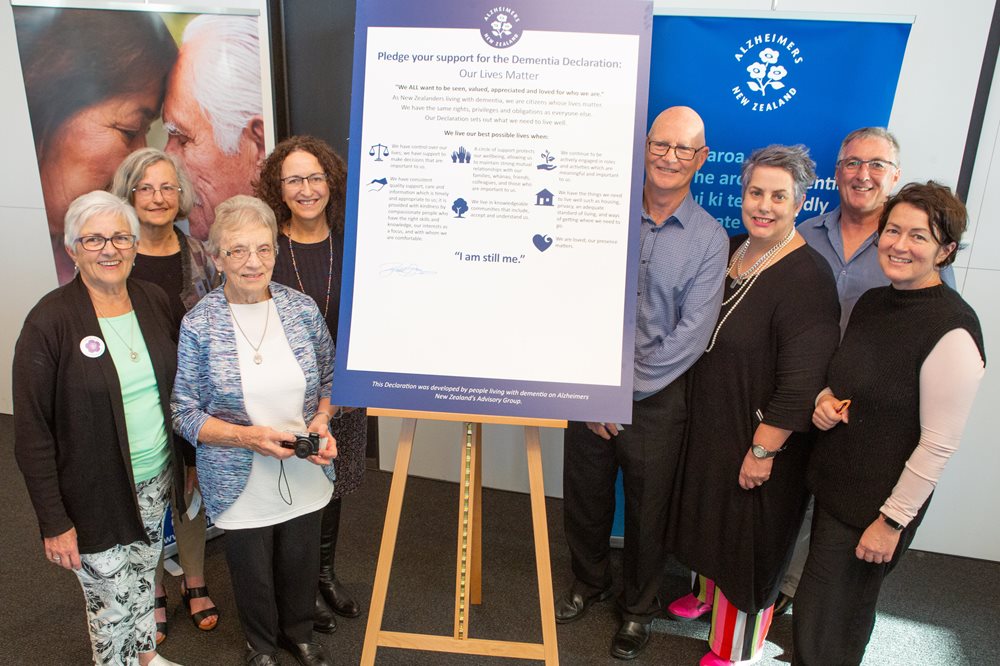 The report, which has been commissioned with Litmus, was made possible by the willingness of 49 strong and courageous people to describe the joy and challenges of their lives. It is one of the first times we have been privileged to be given a first-hand account of what it's like to live with dementia in New Zealand today.
The findings, which are a result of 40 in-depth interviews, shine a much-needed light on what people living with dementia need to live well, both from friends, family and whānau, and from the health sector, which often lets them down badly.
It is our hope the report will prompt a long-overdue scaling up and improvement in services and support for people living with dementia.
In light of this, we have also launched the Dementia Declaration, which has been developed by people living with dementia on Alzheimers NZ's Advisory Group.
The Declaration outlines what people with dementia need to live well, and invites us all to come together to build a society where people living with dementia are included, understood and respected. One where services and facilities are accessible and where peoples' presence and contribution are valued.
The Declaration is a first for the New Zealand dementia community. It is a vehicle for change. For too long people living with dementia have been marginalised and stigmatised, both by society and by the health sector. It states:
"We all want to be seen, valued, appreciated and loved for who we are. As New Zealanders living with dementia, we are citizens whose lives matter. We have the same rights, privileges and obligations as everyone else."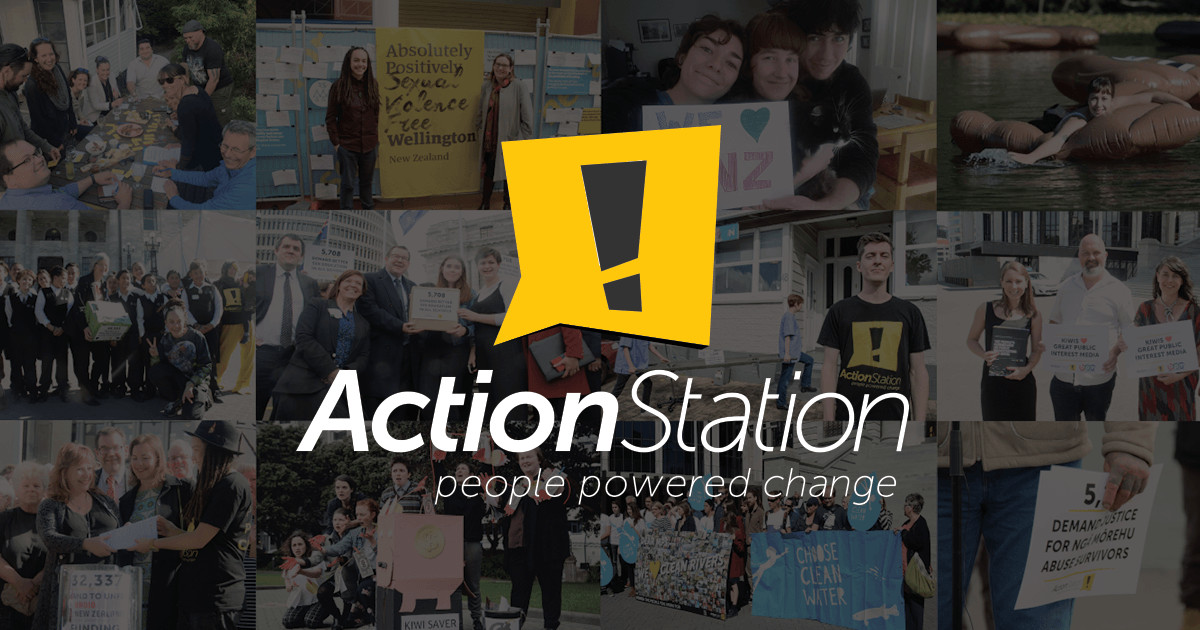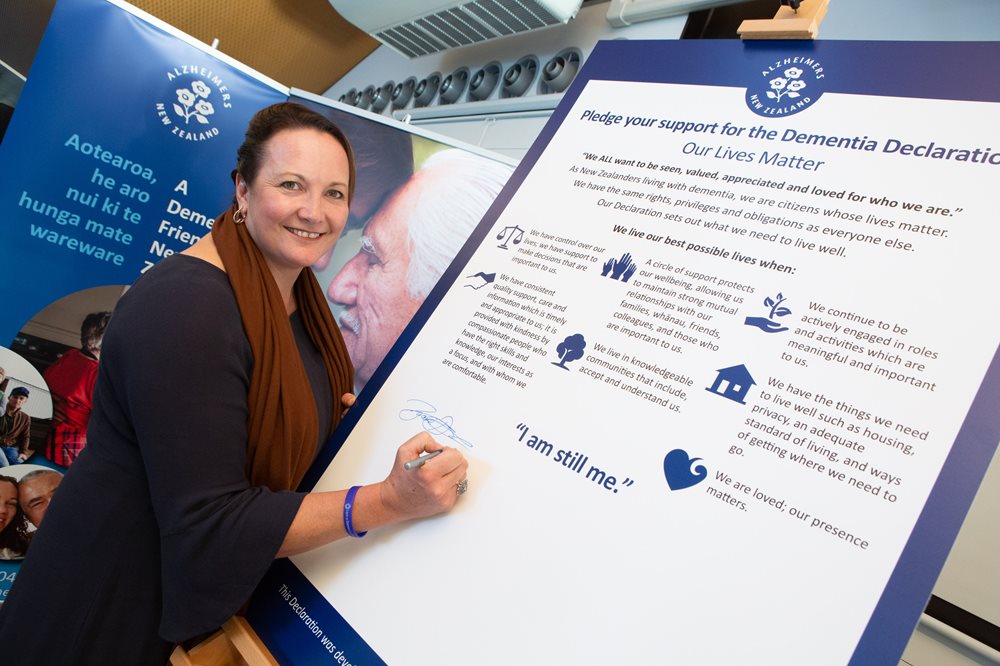 Alzheimers NZ Chair Dr Ngaire Dixon places the inaugural signature on the Dementia Declaration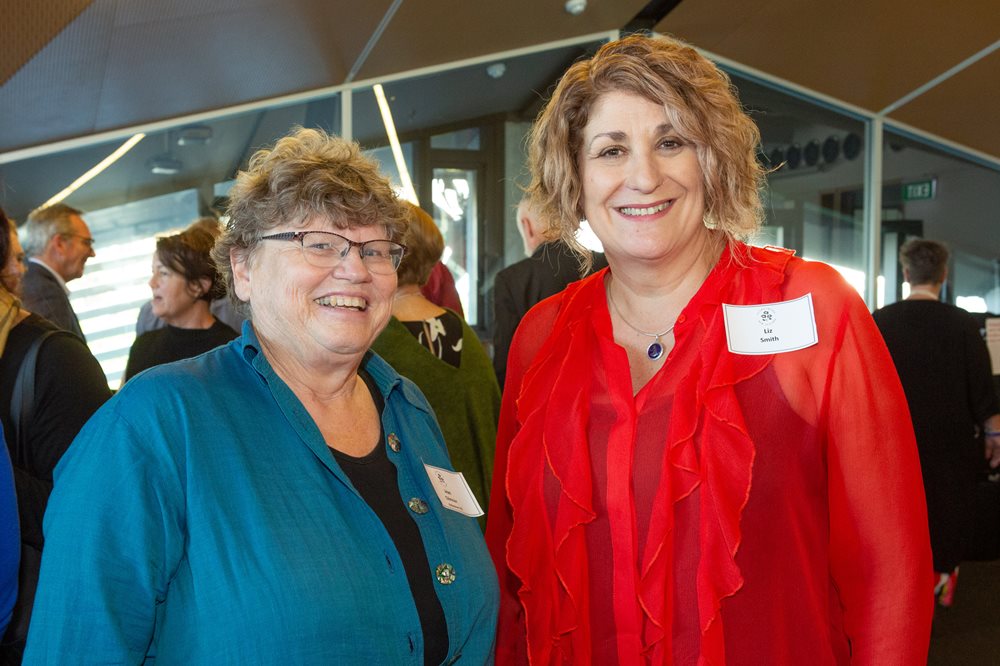 Liz Smith from Litmus with Jean Gilmour, Alzheimers NZ Prinicpal Advisor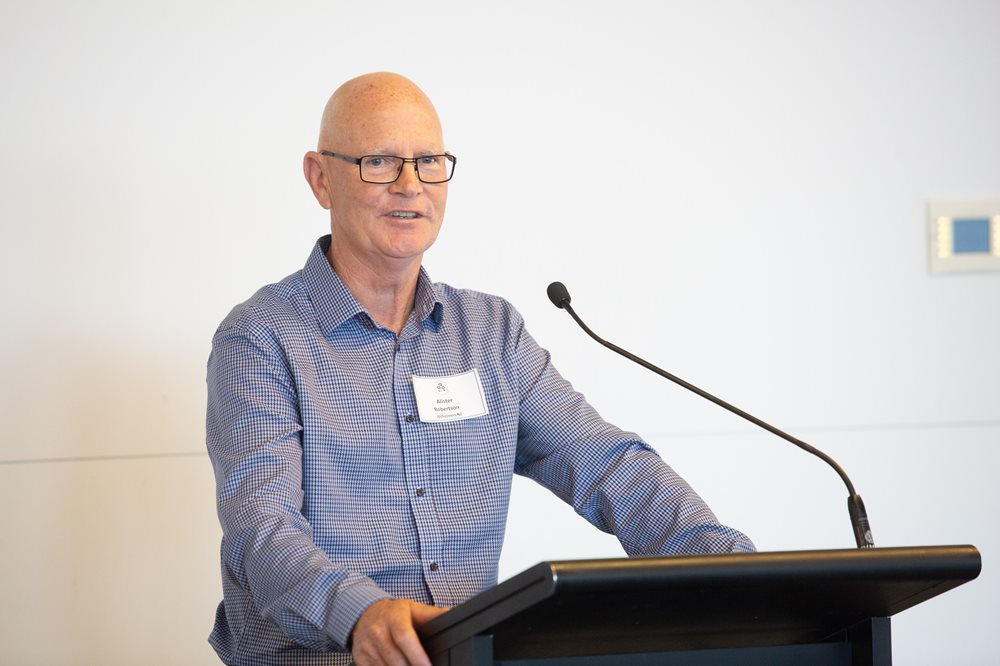 Alister Robertson launches the Dementia Declaration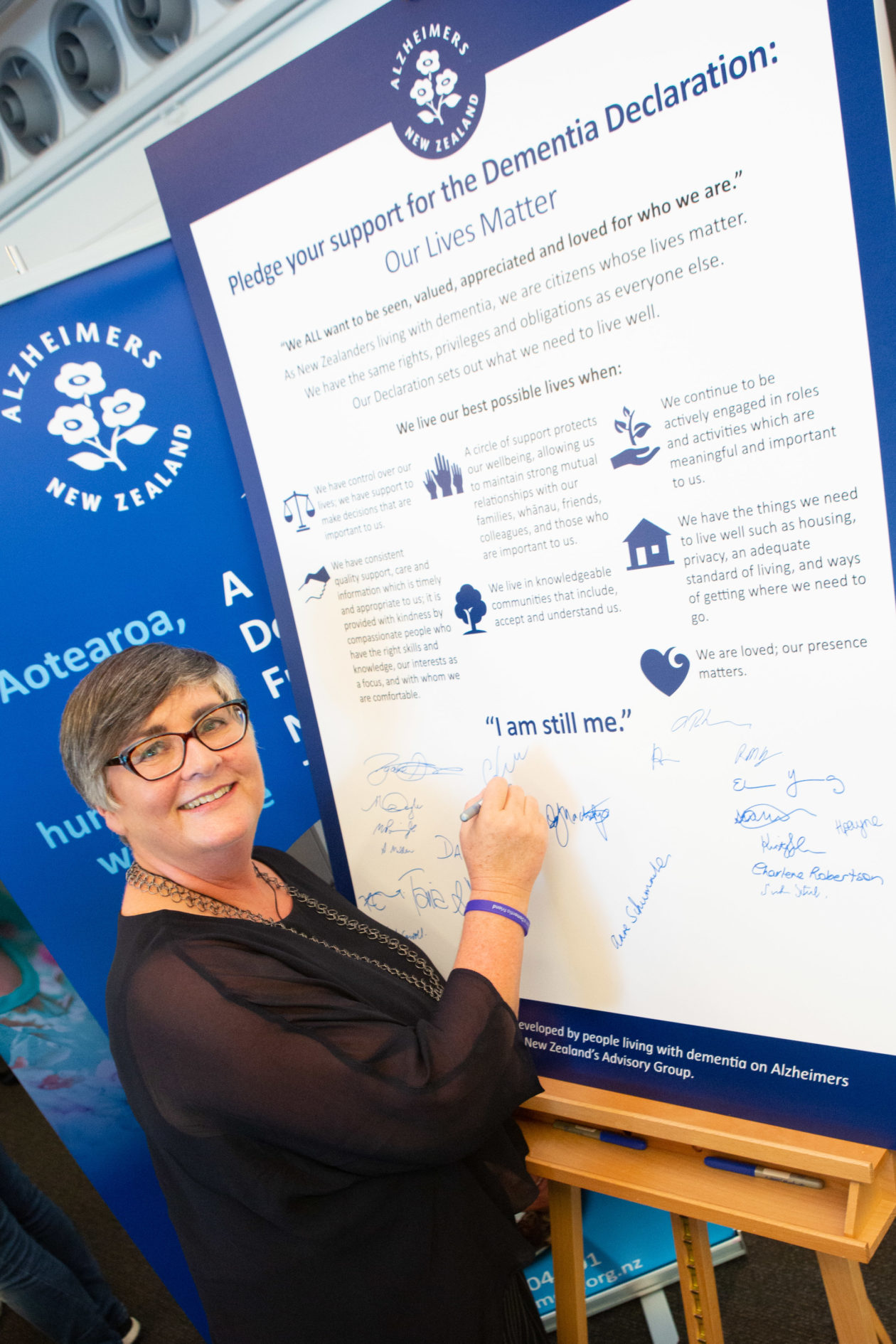 Catherine Hall, CE of Alzheimers NZ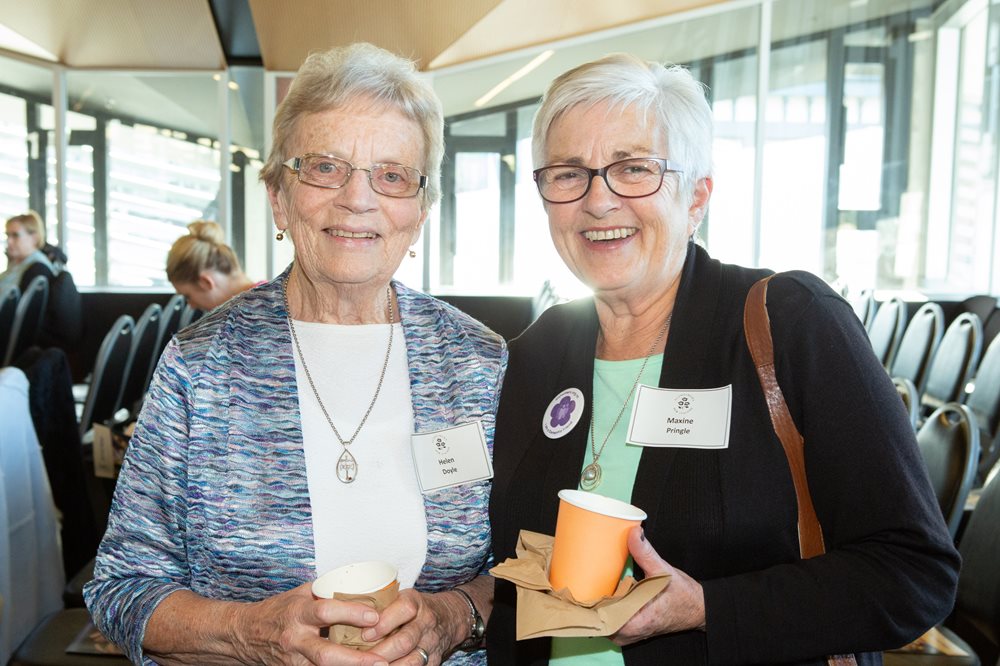 Alzheimers NZ Advisory Group Members, Helen Doyle and Maxine Pringle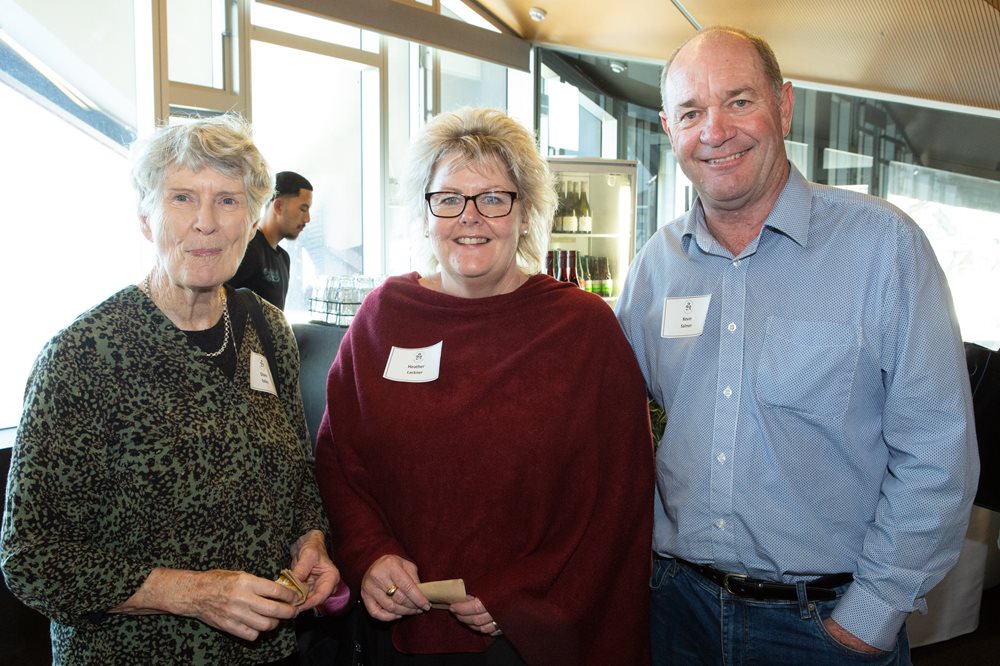 Diane Tolley, Alzheimers Marlborough, Heather Lackner, Alzheimers Nelson, Kevin Salmon, Alzheimers Northland