Virtual Election Forum 2020
Wednesday 29 July, 2020
On Tuesday 28th July, we hosted a virtual Election Forum with representatives from the major political parties.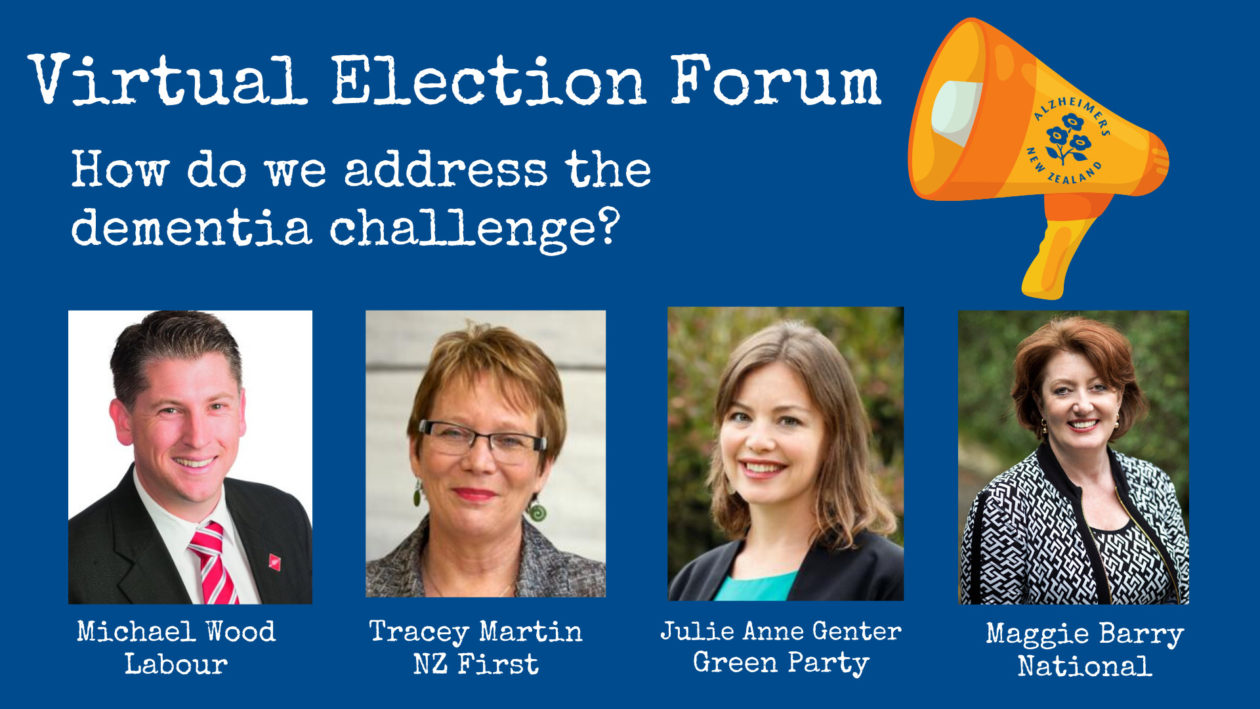 The event was screened on Facebook Live, with the discussion focused on how best to address the growing dementia challenge facing New Zealand, and the recently released NZ Dementia Action Plan.
Please note, there are some minor sound quality issues at the beginning of the video which are fixed a couple of minutes in. Our apologies for this.
In attendance was:
Michael Wood (Labour – Co-chair of the Parliamentary Friends of Dementia group)
Tracey Martin (New Zealand First spokesperson for Seniors)
Julie Anne Genter (Green Party spokesperson for Health)
Maggie Barry ONZM (National – Co-chair of the Parliamentary Friends of Dementia group)
The event was moderated by Alzheimers NZ Champion for Dementia, Dame Kerry Prendergast.
In the lead up to the event, we invited each political party to put forward their policies of addressing the challenge of dementia.
Alongside the Dementia Action Plan, topics covered included support for carers, equity issues for kuia and kaumatua, dementia-friendly communities and the End of Life Choice Bill.
We were really pleased with the recognition from all parties about the size and scale of the dementia issue, and the commitments made to do more and better to support people living with dementia.
Thank you to all our participants, to everyone who was able to join us, and for your patience as we fixed some small technical issues.
The event has already been viewed by thousands of people, and is available to watch on demand here.
The forum was organised as part of our Unite for Dementia campaign, encouraging New Zealanders to help us make dementia a priority for government in the lead up to the Election.