Burwood Hospital – NZ's first dementia friendly hospital
Friday 16 July, 2021
Earlier this year, Burwood Hospital became the first hospital in Aotearoa New Zealand to achieve formal Dementia Friendly status from Alzheimers NZ.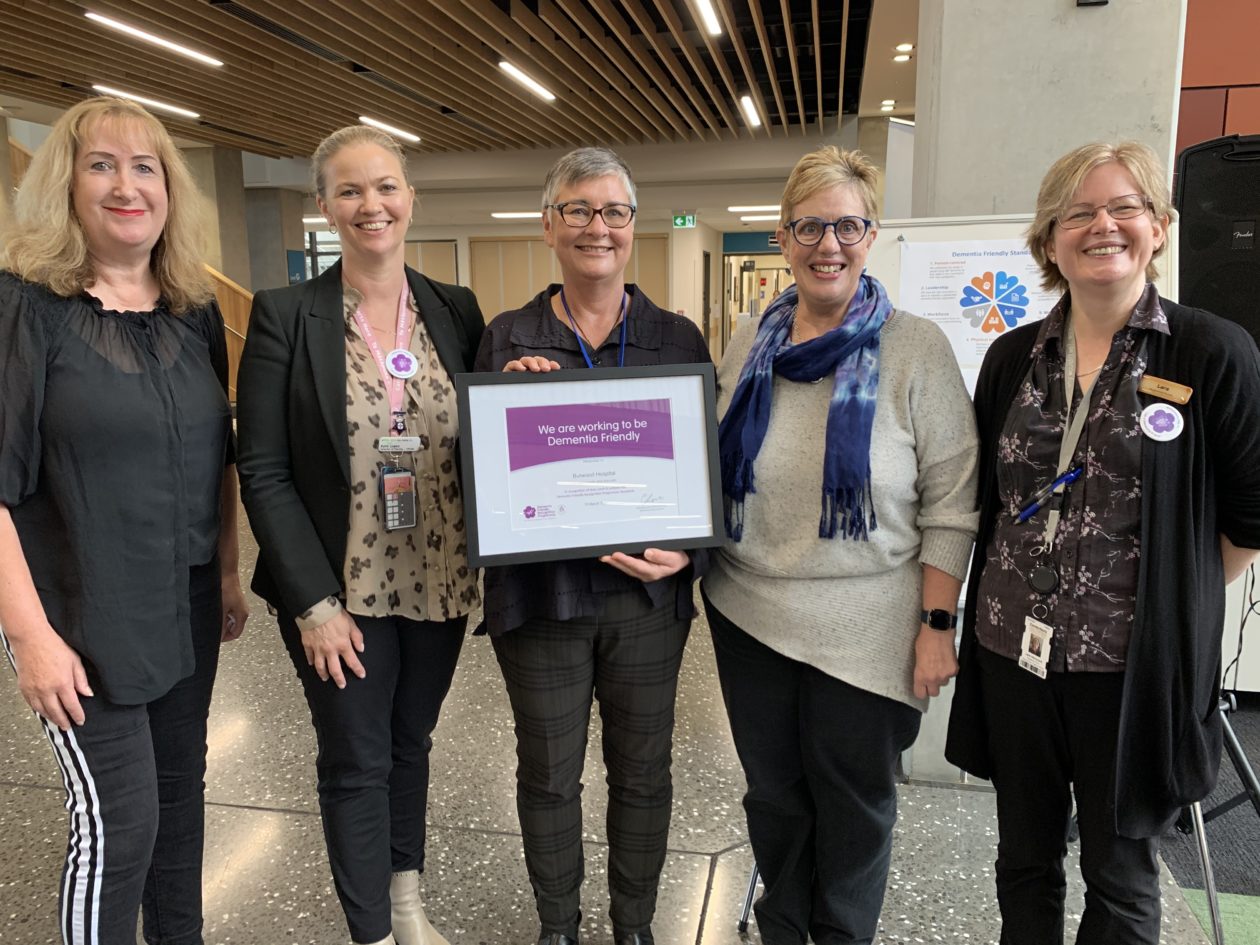 At the hospital, we support many people who are impacted by dementia, and it is essential to make our hospital more dementia friendly to respond to the unique needs of people with this disease.
The Canterbury District Health Board mission is to "improve, promote and protect the health of the people in the community and foster the well-being and independence of people who experience disabilities and reduce disparities".
We do this through our values of caring and respecting others, having integrity in all we do and being responsible for outcomes. This is essential for all but is particularly important for those who are living with dementia and those supporting them.
So in 2019, we enrolled in Alzheimer's NZ Dementia Friendly Recognition Programme and formed the Dementia Friendly Burwood Hospital Working Group. We wanted to embed dementia friendly principles into the delivery of care and service models at Burwood Hospital, to reflect best practice in relation to dementia, and strengthen our links with Dementia Canterbury.
The group includes Burwood Hospital and Dementia Canterbury staff and care partners of people with dementia. But to be truly dementia friendly it is essential we involve people who have dementia. We also get ongoing feedback from people living with dementia through regular focus groups at Dementia Canterbury.
People with dementia told us "it was the way staff communicated with them, that made all of the difference" and the importance of talking with them "not just their family member."
Dave*, who has dementia, was thrilled to be involved in the dementia friendly environmental audit. Dave told us Burwood Hospital is, "inviting, really good and well organised", that the staff are helpful, "and I can ask someone to find what I need."
We met regularly and gathered evidence to meet Alzheimer's Dementia Friendly Standards and were very pleased to achieve Working to be Dementia Friendly status in March 2021.
It has been so exciting seeing our hospital becoming more aware of being dementia friendly in all that we do. Many of our staff are embracing dementia friendly principles and becoming Dementia Friends.
We believe that there are many benefits of being a dementia friendly hospital. It shows people that we are a safe, friendly, accepting, and supportive place for people with dementia (which is also good for everyone). Being dementia friendly also raises awareness and helps to combat the stigma of dementia.
This has already made a big impact. A care partner told us that "The physical facilities there are excellent, but I am writing in connection with the staff there … each and every person conveyed to us a caring, professional yet friendly manner."
One of our hospital aides, Christine, who works with those who may be finding the unfamiliar hospital environment challenging, said that being dementia friendly and person-centred means getting to know the person and their likes and dislikes, creating a safe and calm environment at a very stressful time.
"The dementia training has given me an insight into the problem and allowed me to use the skills acquired. This is a challenging issue, and no two people are the same. So the different tools we have help, also having back up support."
Our journey doesn't end here. We want to continually improve the services we provide and demonstrate that at Burwood Hospital we are committed to making life easier for people living with dementia and those who support them.
In the future, we aim to continue to review our practice, policy and procedure and work towards full accreditation and with the Dementia Friendly Award.
It is so exciting how becoming dementia friendly has developed a life of itself and is beginning to permeate in all aspects of what we do at Burwood.
Lara Hitchcock
Registered Nurse, Burwood Hospital Memory Clinic
*name has been changed