Public get glimpse into life with dementia mate wareware through virtual reality
Thursday 16 November, 2023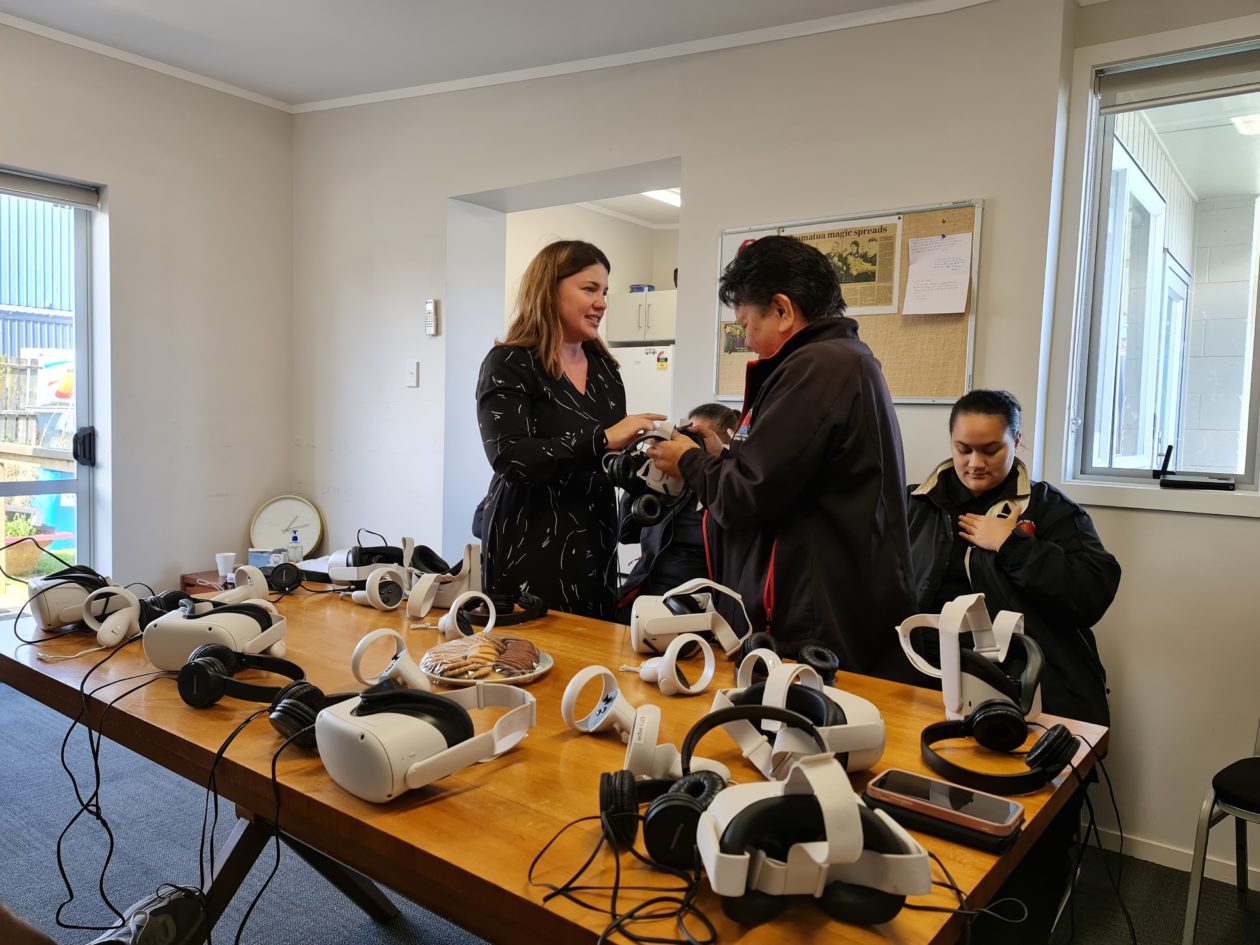 Public virtual reality workshops have given care partners an emotional insight into living with dementia mate wareware from the perspective of their whānau.
The Educational Dementia Immersive Experience (EDIE) is a virtual reality experience provided by Alzheimers NZ's Dementia Learning Centre (DLC). The aim is help people understand some of the challenges people living with dementia mate wareware face, and develop the skills and confidence needed to support them.
Since the technology has been brought to Aotearoa New Zealand, organisations including hospitals, rest homes and community organisations have experienced EDIE. The workshops have been held in Auckland, Bay of Plenty, Waikato, Southland, Nelson and Otago so far.
The programme is led by DLC Director Dr Kathy Peri in the North Island, and Alzheimers NZ Principal Advisor Services and Standards Lyneta Russell in the South Island.
DLC Advisor Ellen Bragger says the supported learning around the virtual reality is just as important as the experience itself.
"We like to give people a bit more information about what they can do to around how to enable a person living with dementia the ability to maintain their life. We look at the 12 risk reduction factors related to dementia, and practical steps to help create a more enabling environment."
Recently, the DLC has also run a few public workshops for care partners of people with dementia mate wareware, supported by Presbyterian Support Northern.
Ellen says these were an "emotional" experience and it was great to talk more about the practical ways they can support a person living with dementia mate wareware.
EDIE workshops are up to three hours long with a maximum of 12 people, and the kōrero is directed by who is there and what they want to know more about. The feedback is always positive:
"We thoroughly enjoyed having you at Rauawaawa today and look forward to future encounters where you can share more of your learnings and experience with us."

"Thank you very much for letting us be a part of this great learning session."

"Very engaging, made me think and I will do things differently."
Ellen hopes as more people experience some of what it's like to live with dementia mate wareware, the more attitudes will transform.
"We want to help build the knowledge and skills people have to support whanāu and friends with dementia and enable them to provide the best possible support and care."
Find out more about EDIE and enquire about a session on the Alzheimers NZ website.
CAPTION: Dementia Learning Centre Advisor Ellen Bragger (left) runs a workshop at Rauawaawa Kaumātua Charitable Trust in Hamilton