Thanks for supporting World Alzheimers Month 2023
Thursday 5 October, 2023
We were delighted to see so many different initiatives for World Alzheimers Month this year.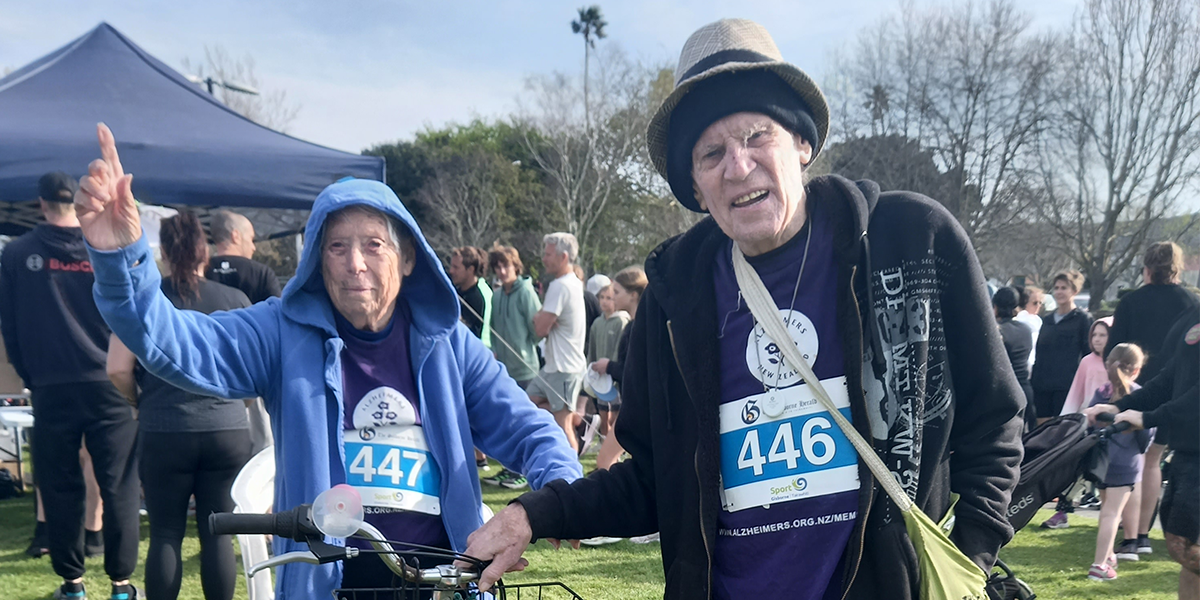 The theme was 'never too early, never too late' with a focus on risk reduction.
Out and about
It was wonderful so many of you joined us for Repositioning Dementia: Let's get real in Christchurch and online. We were privileged to hear from a range of people on the day, under our three kaupapa of the Dementia Mate Wareware Action Plan, human rights and the lived experience and research. We hope you'll join us for our next event in March 2024!
It was also great to see World Alzheimers Month in full swing across the country with walks, cinema fundraisers, book sales and a spud in a bucket competition. There's been some great media coverage too, including these pieces in Gisborne/Tairāwhiti, Otago and Eastern Bay of Plenty.
Advocacy
We launched the World Alzheimer Report 2023 in Aotearoa New Zealand on World Alzheimers Day (21 September). The report shows nearly 140 million people globally will be living with dementia mate wareware by 2050.
Soon to be published research for Aotearoa New Zealand shows the Dementia Economic Impact Report 2020 (DIER) is likely to have understated prevalence by 12 to 15 percent. This means 100,000 people are expected to be living with dementia mate wareware by 2025, with 20,000 new cases per year.
We were pleased to bring this important issue to light with coverage on both Breakfast and Newstalk ZB. We also had an editorial about World Alzheimers Month in the New Zealand Dental Journal.
We held a political panel in the lead-up to the 2023 General Election at the one-day event, which gave the sector the chance to ask their burning questions. Check out what Labour, National, Green, TOP and ACT had to say in response to the policy questions we asked beforehand.
News
We had exciting announcements to share this World Alzheimers Month.
We launched a new online support programme co-designed by people living with dementia mate wareware to help answer many questions people have leading up to or after a diagnosis of dementia mate wareware. This programme is now available on our website.
We were also pleased to share distinguished researcher and advocate, Dr Brigid Ryan, has been awarded the title of 2023 Alzheimers NZ Fellow. This is for her groundbreaking work in understanding the challenges faced by people diagnosed with dementia mate wareware before the age of 65, which you can find out more about in our latest podcast on Young Onset Dementia.
Raising awareness
To help raise awareness on a national scale and encourage people to reach out for help, we ran a series of radio advertisements following a whānau through the journey of dementia mate wareware. These were listened to more than 150,000 times!
Scentre Group malls in Auckland and Christchurch also ran a series of advertisement for the last few weeks of the month – an offer they extend to selected charity partners. We're grateful for this support.
It was amazing to people Move for Dementia this year by setting a movement and fundraising challenge. Thanks to Lowe & Co for letting people know about the challenge through their community signboards in Wellington.
Donations are used nationally and locally to help us provide vital services and support to people living with Alzheimers and dementia mate wareware.
Thank you to everybody who supported this World Alzheimers Month!
CAPTION: Annette and Bob entered the Quarter Marathon Walk in Gisborne