Become a Member
Become a member of Alzheimers Marlborough and receive regular newsletters and enjoy access to our resource library. The membership fee is $30 per annum.
Donations
Please send a cheque to Alzheimers Marlborough, 8 Wither Road, Blenheim 7201.
You can also donate by clicking the 'donate now' button and choose the 'automatic payment' option.
Or select the 'donate now' button to make a one off online secure donation to Alzheimers Marlborough. All donations over $5.00 are tax deductible, and a receipt will be sent in recognition of your contribution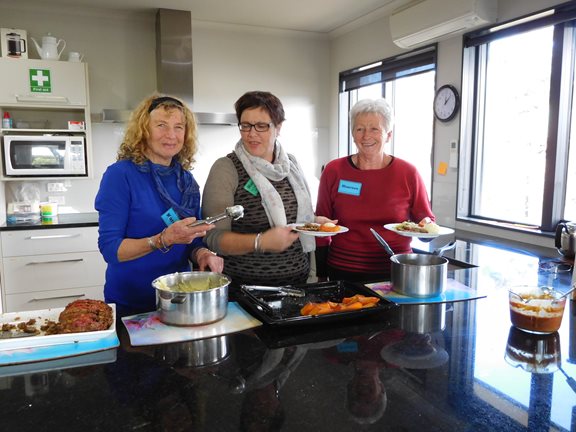 Volunteers

The position of Day Centre Volunteer for Alzheimers Marlborough, supports the Societies mission of "making life better for all people affected by Dementia".
Our volunteers assist with all facets of the day whether it is helping with a craft project, taking clients for a leisurely walk, or chatting informally on a one-to-one basis with clients.
The volunteer can choose the frequency – either weekly or fortnightly, and can specify the day (Mon to Fri) and time (morning or afternoon).
Volunteers are essential to our organisation.  We provide education on a regular basis and hold informal lunches as a way of saying "Thank you".  We recognise our volunteers as the life blood of our organisation. Many come with skills that they can pass on and we endeavor to cultivate these skills to the advantage of our clients.
Volunteering at Alzheimers Marlborough makes a significant difference to the person with dementia, and their carers, by allowing them to stay in their own home for longer.
Qualifications:  Applicants must have a pleasant manner, patience, problem-solving ability, dependability and an empathy with older people.
Support:  On the job training for this position will be provided.  In addition regular dementia specific training will be conducted by qualified staff.
Positions available include:
If you are interested in volunteering we would love to hear from you, please contact us.
Van Driver (no special licence needed)
Casual Gardener
Fundraising Volunteer (raffle selling etc)
Fundraise
Make your next tea or coffee break count this month by holding a Cuppa for a Cause for Alzheimers Marlborough. Spend some time with friends or work colleagues and for a gold coin donation, you can help people affected by Alzheimer's Disease and other dementias.
Cuppa for a Cause
Making a simple cup of tea is sometimes very difficult for a person affected by dementia. The process of how to boil the water, fill the teapot and pour a cup of tea is frustratingly difficult.
Make your tea or coffee break count this September by holding a Cuppa for a Cause for Alzheimers Marlborough.
Organise a Cuppa – invite some friends or work colleagues and ask for a donation. Make the Cuppa an occasion. Please contact us for a resource pack. 03 5776172 or email office.marlb@alzheimers.org.nz