Philippa's story
Do you believe that dementia means the end of someone's skills and talents?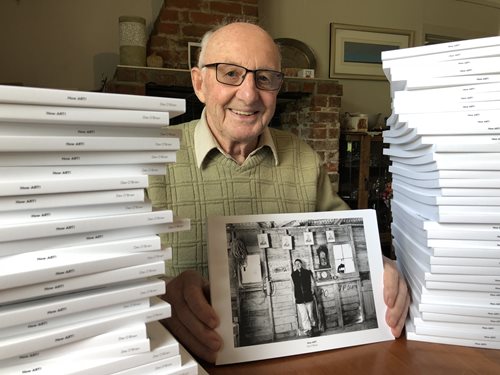 Like many people, I used to think that was probably true. But that was before my 82 year old dad, Des, was diagnosed with Alzheimer's disease, a form of dementia.
Let me go back a bit first.
Dad was originally a Southland farmer and we grew up as five kids on 'Blackmore', a north facing, soil- rich land. While our Mum, Kit McLean, came from farming stock, Dad always had an urge to write even back then.
Finally, in his seventies and retired,  I thrust a leather-bound notebook into his hands and told him to start writing!
So, he took himself off to do a writing course at Otago University and then he began to write poetry. Suddenly his life had purpose again.
But not long afterwards, in 2013, Dad was diagnosed with Alzheimer's disease and we thought, "that's probably the end of his poetry".
But Alzheimers Otago were able to support Dad, who was determined that having found his creative spirit, he wasn't about to let it go!
He joined their Cognitive Stimulation Therapy classes, which engage people with dementia in a series of themed activity sessions – and he still goes every week.
Now he has just published a book of poetry, "How Art"! which includes a section on "New Beginnings", about his journey with Alzheimer's.
His poems capture observations about New Zealand, as well as the moving, heartfelt, and even funny moments, as he adjusts to a new way of being.
With your vital support, Alzheimers organisations do everything they can to help people with dementia live their fullest possible lives.
Dad is living proof that a rich and creative life is possible, even with dementia.
I am so proud of the way he has kept his grace, humour and creativity alive. Sometimes he loves to re-read his old poems about life on the farm, which brings him great comfort.
I thought you might like to see an excerpt from one of his recent poems:
"This foggy brain, like vegetable soup
Blow on spoon, cool my heated brain
And clear headed words line up
And at last make me walk in the right direction
Stride into that space with a  taste of honey
I wrap my arms around my beautiful, beautiful Kit."
Alzheimers Otago walked alongside Dad to help him keep his creative flame alight and continue with his beautiful writing.
If you would like to buy a copy of Des' book, email manager@alzheimersotago.org.nz. The books are $35 each ($30 each for two or more) and Alzheimers Otago will benefit from the sales.
With gratitude,
Philippa O'Brien