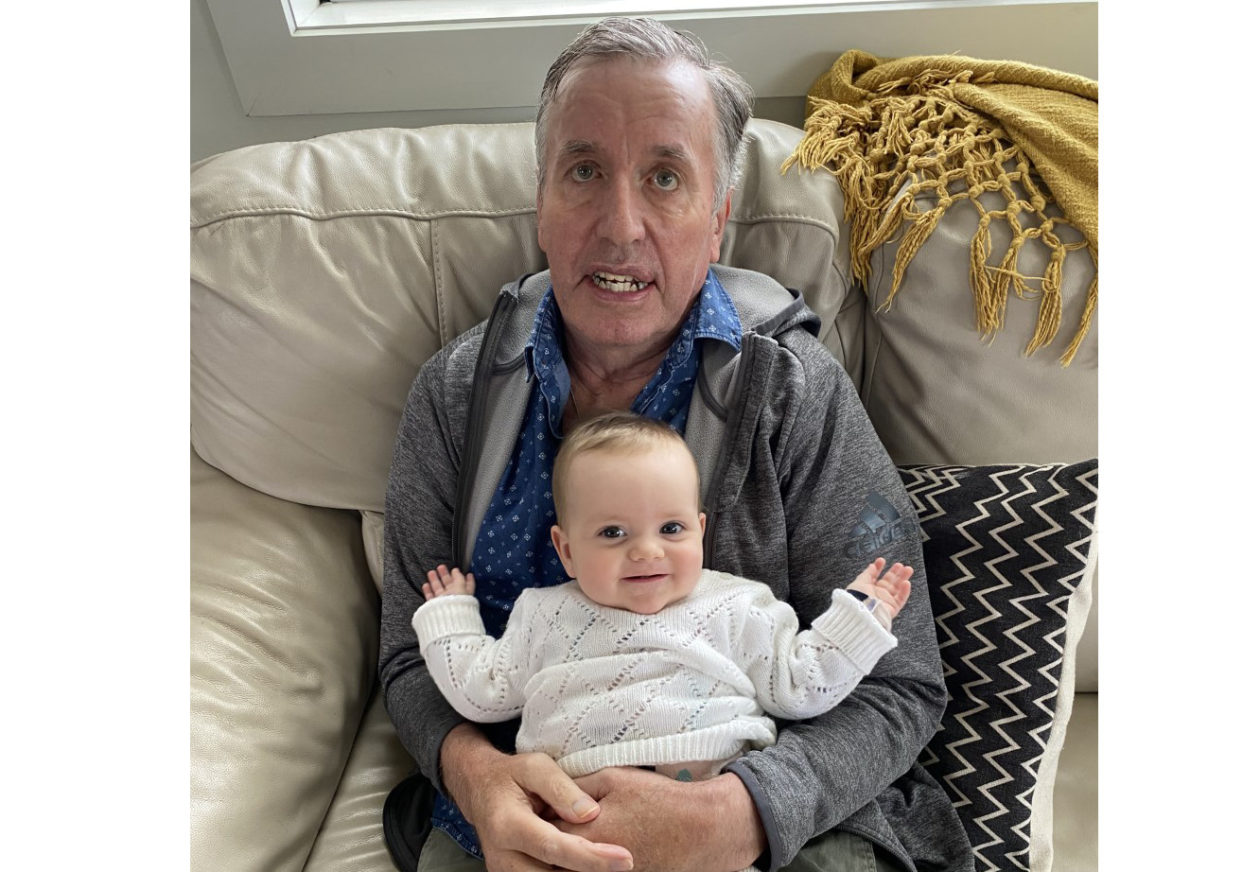 Little Poppy is only 14 months old. She is cute and adorable and named after her Grandad, known as Poppy.
It's incredibly special to name a child after a beloved whānau member, and little Poppy will grow up hearing stories about big Poppy's running exploits, perfectionism in his building projects, and his deep love for his whānau.
(Grandad) Poppy was given a dementia diagnosis at 60, when he was still working. He has a family history of dementia, so when his whānau noticed some personality changes, they supported him to seek medical help.
With a lifetime of running, Poppy is very fit and he inspired his daughter, Alicia (little Poppy's Mum) to become a personal trainer and motivational coach.
No two dementia journeys are the same. Poppy entered residential care at 64 years which was a difficult decision for his wife and whānau. Some days, Poppy is up and active, and other days he struggles to get out of bed.
Alicia connects with her dad through eye contact, and she can often see the dad she has always known and loved twinkling back at her.
"He's still there. This is still dad. His life didn't end with a diagnosis," she says.
Each year, Alicia chooses a charity to raise money for. In the last two years it has been Alzheimers NZ through the Move 4 Dementia promotion. As a personal trainer, Alicia uses the month of September to run free fitness sessions for groups in return for donations to Alzheimers NZ.
Through Move 4 Dementia, Alicia has raised thousands for Alzheimers NZ. A big reason for this is the wonderful support her Mum has received, as a care partner, from Alzheimers South Canterbury.
With such a young diagnosis, it has been an emotional road for Alicia and her family. Many people lead active and long lives while living with dementia. Some people have more of a roller coaster journey, with many ups and downs.
Poppy and his whānau are riding the roller coaster and each day is very uncertain.
As part of her Move 4 Dementia month, Alicia organised a dance session at Poppy's Care Home. She was uncertain as to how it would go, and she was thrilled to see residents and carers grooving to the hits of the 60's and 70's for 40 minutes.
The most incredible moment happened when Poppy got up and danced with Alicia. He had tears down his face as he was so overwhelmed with happiness.
Afterwards he danced with his wife of 40 years. It was a very special, emotional and memorable experience for the whole whānau.
Alicia has noticed that their wider friend, and whānau group have reacted to her dad's diagnosis in different ways. There is a lot of care, concern, and love, but some of their group have chosen not to visit Poppy in his Care Home. Alicia believes that everyone processes the situation in different ways, and there is no right way or wrong way to love someone living with dementia.
One of the biggest differences made to the whānau has been the level of support they have received from Alzheimers South Canterbury.
Poppy and his whānau are one of thousands of people who are receiving support and an understanding ear for people living with dementia, and their whānau.
Poppy still cares deeply for his whānau, as they care for him.