Andrew and Barbara's story
Andrew and Barbara planned their perfect retirement together filled with tennis, bike rides, sailing, traveling and their grandchildren.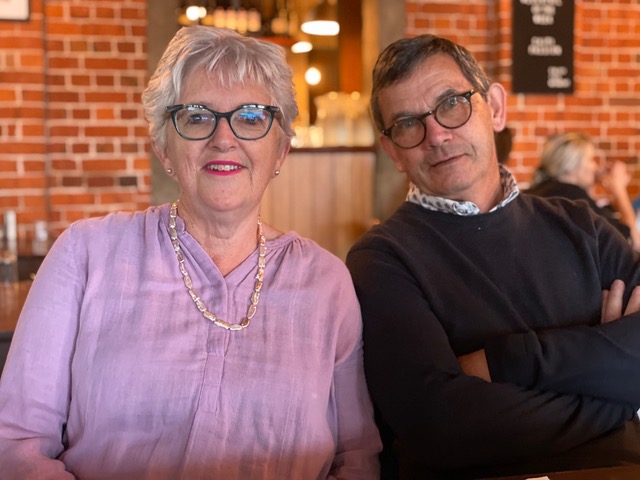 However, their dream was all destroyed in one day, in one moment, with one diagnosis.
When Andrew was 60 Barbara first noticed signs that things were not quite right and by age 62 Andrew had regularly become forgetful, started putting things in the wrong place. He just didn't seem himself.
"He started saying he thought there was something wrong with him," Barbara recalls, "and so we went to the doctor and that's where it all started. But there was a misdiagnosis of depression."
Barbara knew it was more but it took another two years for Andrew to receive the diagnosis. At age 64 Andrew officially had Alzheimer's. Young onset. Moderate level. Progressing fast.
"We were terribly upset. We came home and sat together and cried and cried and cried," Barbara remembers. "We felt like we'd been cheated of life."
Around the world it is estimated that one person in every 1,000 who has been diagnosed with dementia is under 65 years old which means that Andrew is one of approximately 700 people with young onset dementia in New Zealand.
Young onset is often faster progressing, can be a rarer form of dementia and there is a higher chance that there is a familial link.
Before he became sick Andrew lived life to the full. He was active, busy, loved the outdoors and he was very social, always the last to leave a party. With two grown up daughters, one in Dunedin and one in Melbourne, Andrew and
Barbara were enjoying life as new grandparents to grandson Ethan and eagerly anticipating their retirement years together. Andrew's diagnosis changed everything.
The impact on the lives of people with young onset dementia can be dramatic and the behaviour changes can be difficult to understand, accept and manage. The diagnosis often changes many things for them, their family and their relationships as their financial situation and medical requirements are affected. At the beginning they are often still working, raising a family, physically active and have various financial and other responsibilities.
This was the case for Andrew and Barbara. Andrew was still working as an electronic technician when he started showing signs of dementia however, by the time he was diagnosed two years later, he had been made redundant and had retired early due to growing concerns about his health.
"It was quite clear then that there were problems," says Barbara who was now working full time. She created strict routines for Andrew and started leaving notes and instructions for him while she was at work. This was not sustainable however and once Andrew was not able to be left at home by himself Barbara was forced to retire.
It was earlier this year, two years after Andrew's diagnosis, before Barbara reached out for help and she wishes she had done it sooner. "The life changing thing for me was putting my hand up to ask for some help from Alzheimers Gisborne/Tairāwhiti. I hadn't done it sooner because for me that was showing a weakness, showing that I couldn't cope," says Barbara.
Alzheimers organisations support many people throughout the country who are living with dementia and Alzheimer's disease. "That was the turning point, getting some help," she said, "I honestly can't speak highly enough of the team at Alzheimers Gisborne/Tairāwhiti. They have been wonderful, I told them they were my lifeline and I honestly mean that, they have been incredible."
The impact of young onset dementia also means that the type of support needed is different. At first Andrew and Barbara kept Andrew's diagnosis private and their circle of friends slowly and naturally reduced as they disengaged from their old life. They moved from Hamilton back to their hometown of Gisborne where Barbara's sister, Andrew's brother and a close friend have become their main support group. Their two daughters also play a significant role remotely with lots of online contact and visiting when they can.
Andrew is now attending the Sherwood Club two mornings a week, a day facility run by Alzheimers Gisborne/Tairāwhiti providing a social setting and cognitive stimulation for people with dementia. It has taken time for Andrew to become familiar and comfortable with a new environment but Tracy, Heather, Jennifer and the team at the Sherwood Club have been wonderful with their new member.
Everyone at Alzheimers Gisborne/Tairāwhiti has been so kind and helpful to Andrew and Barbara and Barbara knows she can pop in and ask about anything. "I worry a lot about the future… I worry about not being able to look after him, about the financial side because I'm young. If I was 80 it wouldn't matter as much but I'm 65. I can talk to them and they give me really good advice."
Recently she talked to Cheryl, the Coordinator, about the process of transitioning Andrew into a care facility. Barbara isn't planning this yet but she felt enormously reassured and prepared just to have an understanding of the process and what to expect.
Andrew is now 66 and he and Barbara's lives have changed dramatically. Nothing could have prepared them for the direction life has taken however Barbara does have some advice for people dealing with a new diagnosis of dementia.
"Get some help straight away, don't leave it like I did" she says. "Contact Alzheimers NZ and get some support, that's the best advice I could give anybody."
Barbara also says don't do what her and Andrew did by waiting until retirement. "Just live your life, don't keep putting things off until you're older and retired and have more money or whatever, just do it now."