Katrina's story
Katrina wasn't expecting people to open up to her about dementia while she rowed a marathon on a rowing machine. But that's exactly what happened.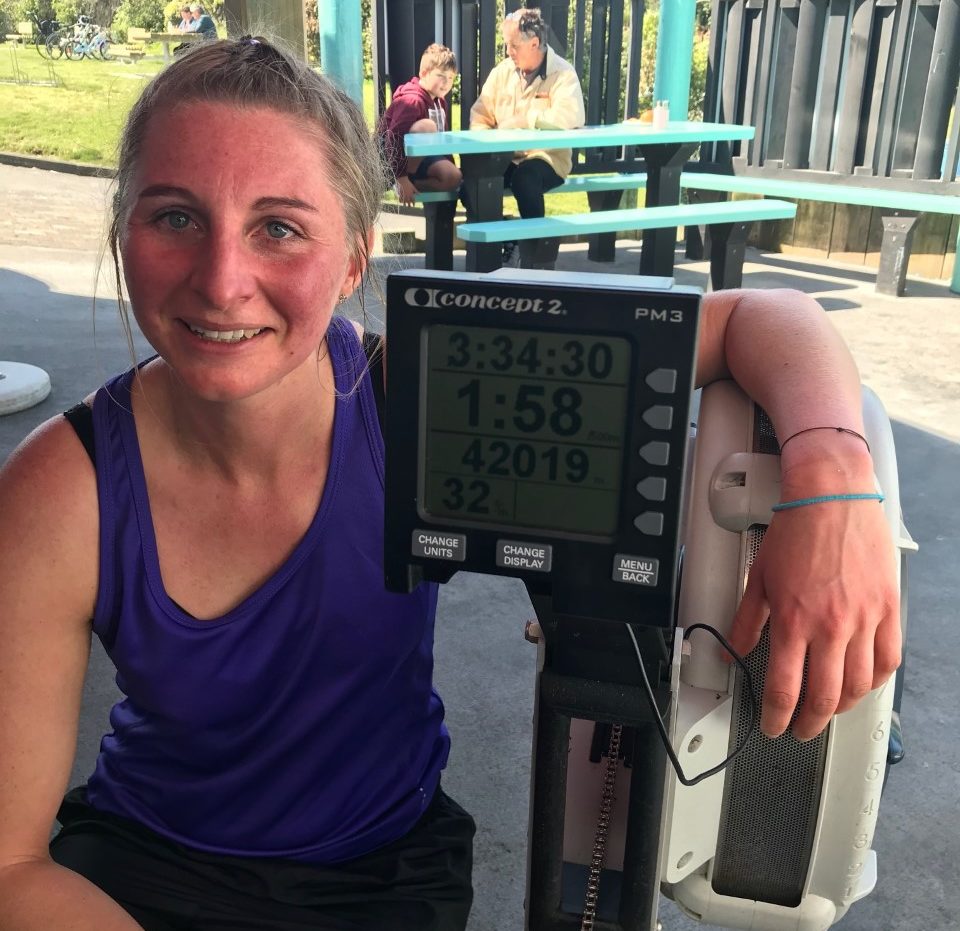 "The stories were beautiful, and I felt honoured to hear them."
Before that day, Katrina hadn't done much rowing. But when she heard about Move for Dementia, she knew she wanted to take on something new and challenge herself.
Katrina cares for her Dad, who is living with dementia, a role she says is difficult and challenging at times. She wanted to "channel that 'negative' energy into something positive" and give something back to her Dad, "her rock", a person who had always given so much of his time for others.
After getting some advice, Katrina, who "enjoys a good physical challenge", decided she would row 42km on a stationary rowing machine. On the day, she stocked up on snacks and drinks, made herself as comfortable as possible, and started rowing.
Katrina was taken aback and humbled by the amazing support she received on the day. But the biggest surprise of all were the people coming up to her, "hearts on sleeves", to share their experiences of dementia, something which affects 4 out of 5 Kiwis in some way.
"I really had support from all directions, which propelled me on towards the end." And it was particularly special to be joined by her Dad for the last couple of kms. "Thank you Jay for making that happen."
Katrina remembers the day as being challenging and emotional, with tears at the end, but "a few days later the pride kicked in, as well as the aching muscles!"
"Doing the Move for Dementia challenge allowed me to open up, acknowledge and accept Dad's condition. Before that, it was something I had always kept to myself."
Katrina says she couldn't have done it without the help of Josh at Redemption Gym, Simon of the Stratford Fire Brigade, the staff at Fitzroy Kiosk and the Fitzroy Surf Life Saving Club.
To anyone thinking of take part in Move for Dementia, particularly if they want to try something new, Katrina says, "do it – put all your doubts aside and give it a go."
"Aside from raising vital funds to support people like my Dad, I also found a new support network which has been invaluable as our dementia journey progresses. It was a real win-win for me and my Dad."
Katrina is particularly grateful for the support from Alzheimers Taranaki, which has been "immense".
"The entire team, with all their knowledge, is invaluable in the journey."