Amanda's story
At 58, the last thing Ian was expecting was a diagnosis of Alzheimers.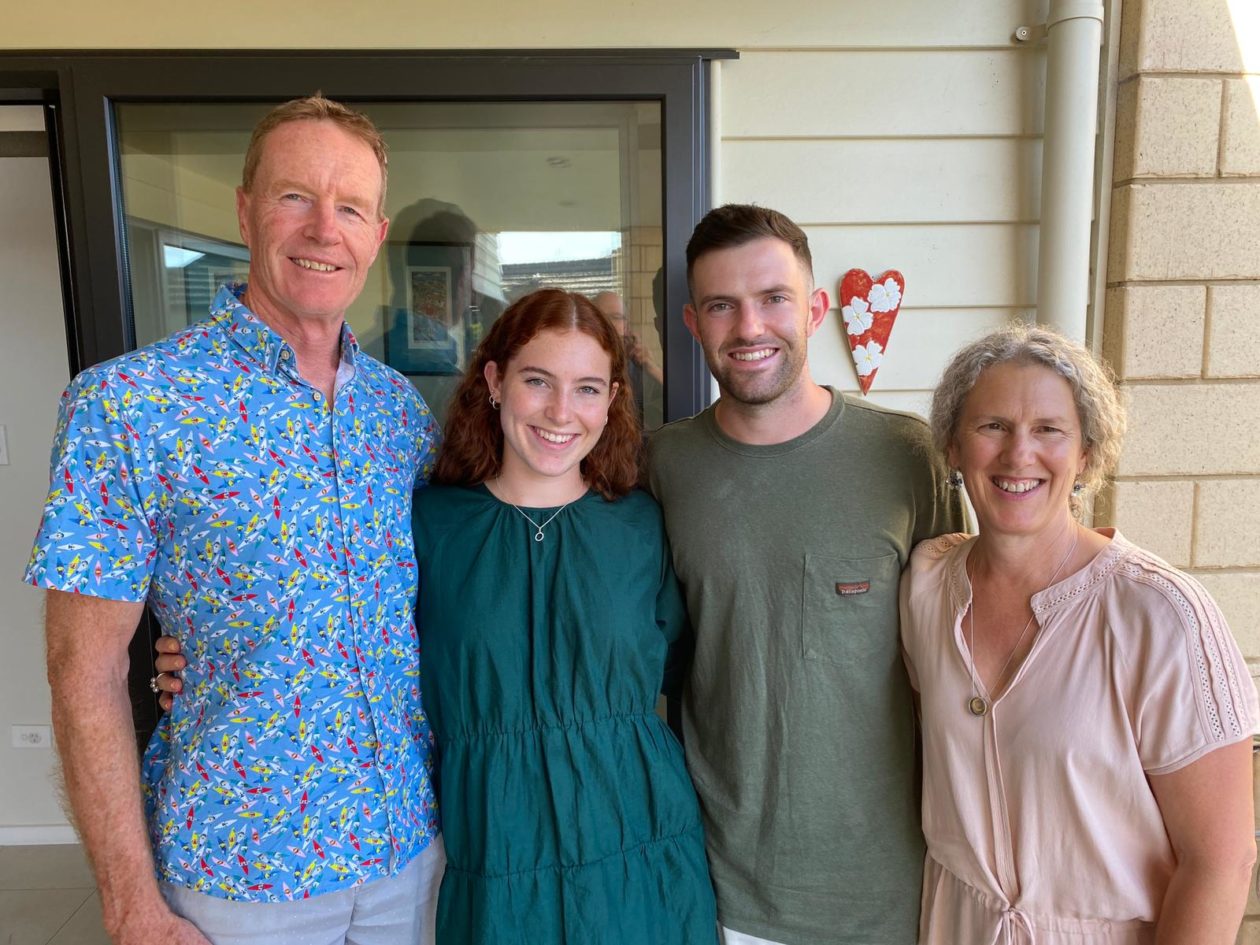 Ian, and his wife, Amanda were living the kiwi dream. They met after Ian did an OE stint in both the UK, and Rarotonga.
They fell in love and had two beautiful children, Josh and Brooke. Life for Ian, Amanda and their kids was based around the outdoors. Camping, walking and tramping were at the centre of their holidays.
Ian was a great dad with very high energy, a strong sense of humour and dedication to his family. One interest he shared with his son, Josh was a love of running. The two of them would run together and enter into running events.
Both Ian and Amanda worked full time, and juggled work with two kids. Ian was always confident in his work, loving the creative side of his marketing jobs and being around a hard-working, creative team.
Over a couple of years, Ian became very stressed about work, and developed anxiety. It made perfect sense to attribute the stress and anxiety to his work, but looking back, Amanda wonders if it was an early symptom of his later dementia mate wareware diagnosis.
Amanda is a GP, and as she observed Ian's confidence and behaviours changing it occurred to her that this could be dementia mate wareware, however at his age and with no family history it just didn't make sense.
It took Amanda months to raise this possibility with Ian. He laughed it off. How could he possibly have Alzheimers?
Six months later, in December 2018, Ian received a diagnosis of Alzheimers. Although he was shocked at the time, he said to the neurologist that "it explains some things".
Right from the outset Ian was determined that the diagnosis was not going to define who he was. He was determined to concentrate on what he could do, not what he could no longer do.
As for many people Ian's job and his ability to provide for his whānau were a fundamental part of his identity and self-esteem. Being unable to continue working, and losing his Driver's License, were both massive blows to come to terms with.
It took Ian some time and a great deal of support from family, friends, his exercise buddy, and local dementia support groups, to get back to focusing on the things he loved in life – being with people he loved, being physically active, being outdoors, music, and art.
Things started to get tough for Amanda. She was juggling work and transitioning to being Ian's caregiver.
As Ian's behaviour changed, Amanda had to keep reminding herself that this wasn't the Ian she knew and had fallen in love with all those years ago. It was the disease that was changing his behaviour.
Ian died in November 2022. It's been hard on the family. The last year was very tough for Ian and everyone who loved him.
Ian's whānau and friends remember him for the incredible, loving, fun, and hard working lover of life that he was.
There were a lot of relationships strengthened through the illness. Josh and Brooke were amazing, as were a lot of close friends.
One of the ways that their son, Josh was able to cope with the changes in his father, was to put his energy into training for a 100 mile Ultramarathon to fundraise and raise awareness for Alzheimers NZ.
The run Josh decided to take on was the 100 Mile Tarawera Ultramarathon. He completed this successfully in February 2023.
"I wanted to help my dad but didn't know how. I have a growing passion for running and the great outdoors, so it was a great fit," says Josh.
Amanda is incredibly proud of Josh's achievement. "My heart felt like it was overflowing on the day and at the finish line, both with Josh's achievement, that it was all done in honour of his dad.
"Ian would have loved it. Physical exercise, physical challenge and the great outdoors were his passions, and he loved that Josh was exploring those same passions.
"He would have been so proud, he would have wanted to join in, and he would have loved having all the family and friends there supporting Josh. Ian would have been very humbled by all of this being in his honour."
Amanda and Josh say living with a diagnosis is a long journey for the person with Alzheimers and their whānau.
"I encourage you to accept help and seek support from your own family/friends, and also from those who know about and live with dementia themselves, because they truly understand," they say.
"You need to make time to care for yourself too so that you are able to care for your person with Alzheimers.
"Remember too that in amongst the challenges, there's so much learning and beauty to be found by being in the present moment and enjoying the simple things in life."