Thanks for supporting 2022 World Alzheimers Month
Friday 30 September, 2022
It was amazing to see so many different initiatives happening for World Alzheimers Month this year.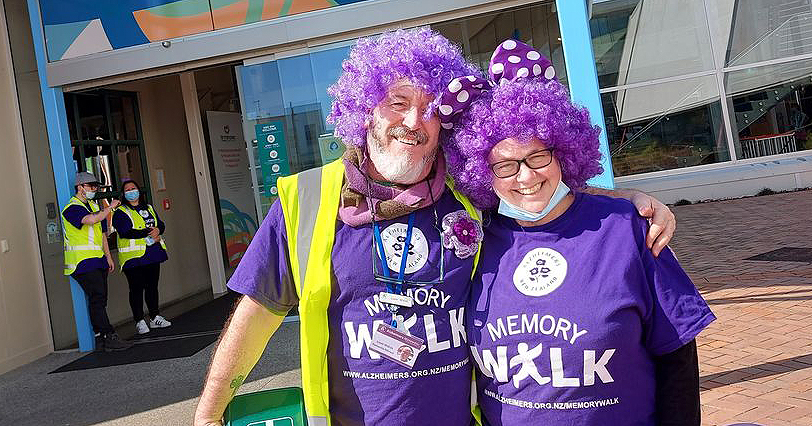 From dance classes and memory walks to presentations and community events, #worldalzmonth was celebrated all over Aotearoa.
Thanks to everybody who supported this important month.
Out and about
There was lots happening locally for World Alzheimers Month in Aotearoa. Memory walks were held in Dannevirke, Fielding, Palmerston North, Whanganui, Stoke, New Plymouth and Whakatane.
In Otago, a Preventing Alzheimers presentation was held by Associate Professor Yoram Barak in Alexandra. The evening was attended by 165 people and hosted by Otago Masonic Trust.
In Gisborne, the community rallied around for their annual
Spud in a bucket fundraiser.
Movers and shakers
It was great to see so many people Move for Dementia this year by setting a movement and fundraising challenge, to support people and whānau living with dementia.
Diversional therapist Marion Taylor-Skinner organised a walk along the Wellington waterfront with a special group of people who are either currently supporting people with dementia or have done so in the past.
"We had a great time. We got a lot of support from the community and many well wishes and congratulations for our efforts. We managed 13,275 steps," says Marion.
"I have now reached and passed my target of $200 on my Move for Dementia page Marion is Moving for a Cure and still encouraging more donations."
Donations are used nationally and locally to help us provide vital services and support to people living with Alzheimers and dementia.
Advocating for the cause
Alzheimers NZ chief exeutive Catherine Hall has been spreading the word about Alzheimers and dementia with a flurry of media coverage on RNZ, Newstalk ZB and Stuff.
Some of this media coverage conincided with the release of the latest
World Alzheimer Report by Alzheimer's Disease International.
The report highlights the lack of post-diagnostic care for people living with dementia, which is a global problem.
There was also the announcement of the Dementia Mate Wareware
Leadership and Advisory Group (DLG) by Te Whatu Ora and Te Aka Whai Ora – congratulations to everybody invovled.
Alzheimers NZ also visited parliament to share more insight into the reality of living with dementia using our virtual reality programme EDIE.
Thanks to our Parliamentary Friends of Dementia who joined us to experience life through the eyes of somebody with dementia during WAM.
We encourage our Friends to use their experience to support our work towards a dementia friendly Aotearoa.
A jolly good fellow
Dr Etuini Ma'u, a senior lecturer in Psychiatry at the University of Auckland and consultant old age psychiatrist with Te Whatu Ora Waikato, was selected as the 2022 Alzheimers NZ Fellow.
"I am very humbled to receive this award and am grateful to Alzheimers NZ for their support for my research," says Dr Ma'u.
Webinar
We were delighted to see so many of you join us for our webinar: Addressing the dementia challenge in the new Health Ecosystem: A discussion with Te Whatu recently.
If you missed it, you can watch the recording online. Asked a question that wasn't answered? Find the answer online too.
Partnerships
And, of course, Alzheimers NZ wouldn't be able to drive awareness without the support from the wider community.
We recently announced our Lead Partner Ryman Healthcare will continue to fight against the stigma around dementia in Aotearoa with us for another three years.
We also shared Summerset will continue to support people and whānau living with dementia in Aotearoa, after officially partnering with Alzheimers NZ.
Pictured above: Alzheimers Manawatu dementia advisor Liam and the Palmerston North MKC coordinator Angie at their Memory Walk