Eating well
Eating a well-balanced, nutritious diet and drinking enough fluid is important for everyone, and especially so for someone living with dementia.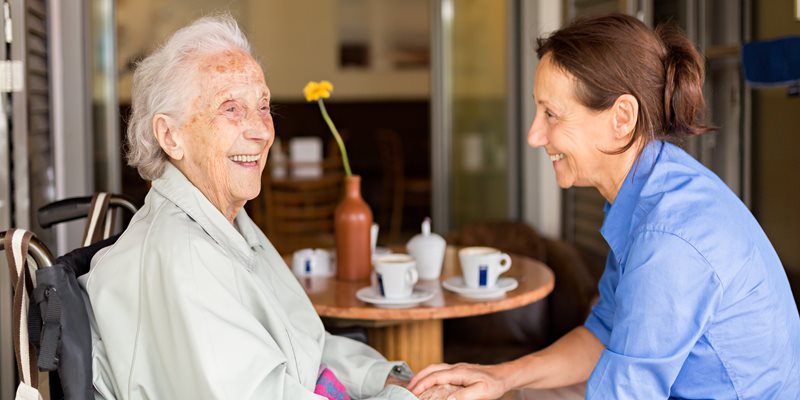 Possible reasons people with dementia may not eat well include:
Forgetting to eat
Confusion at the table (such as pouring a glass of juice into a bowl of soup, buttering the serviette or eating dessert with a knife)
Being unable to prepare meals for themselves
Changing appetite
Problems with their mouth, chewing and swallowing.
Many eating problems are temporary and will change as the person's abilities change, but here are some tips that may help improve the situation:
Keep eating simple – offer easy-to-eat food
Rather than large meals try the 'little and often' approach
Keep in mind a person's past history with food – don't give them food they didn't like in the past, or make them eat in a different way or at different times of the day.
Watch food temperatures – some people with dementia aren't able to tell if food is hot or cold.
The person may get dehydrated because they have forgotten to drink or can't recognise thirst anymore – set a routine for offering them drinks (jelly, custard or ice cream can be substituted in small amounts).
Check for problems that could be causing pain with their teeth, dentures or the mouth in general, such as ulcers.
Where possible, a good strategy is for the person with dementia is to eat with others so they can pick up cues about what to do.
Booklet: Supporting a person with dementia

A guide for family/whānau and friends

This booklet gives you information and tips on helping a person with dementia with their personal care, such as washing and dressing, nutrition, sleeping and travelling, as well as communication and ideas for meaningful activities and ways you can look after yourself – which is very important, too.

Other resources
Nutrition for the person with dementia living at home
Suggestions for people living with dementia at home